Stop harassment by police, group demands at Youngstown City Hall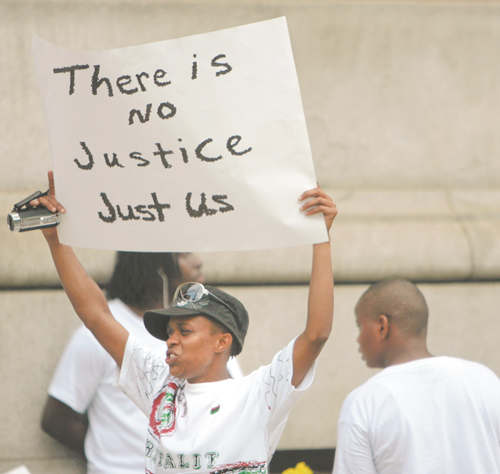 Photo
About a dozen people demonstrated outside Youngstown City Hall on Thursday in support of Desiree Johnson, here with sign. Along with Benjamin Roberts and Doretha Weston, they say they have faced harassment from Youngstown police.
YOUNGSTOWN
Desiree Johnson and about two dozen supporters held signs and walked outside City Hall on Thursday to protest the treatment of young black males like her son, and the harassment she says her family has faced from Youngstown police.
Johnson, 45, and her friend Doretha Weston, 35, will be sentenced today on misdemeanor charges of obstructing official business, assault on an officer and resisting arrest after an altercation with police in a 2011 traffic stop.
Johnson said the issue with police began before that stop. She said the protest centered around police treatment of her 15-year-old son Benjamin "Benji" Roberts, who was stopped at gunpoint by police in 2009 when he was 12.
The officers who stopped Johnson and Weston are the same officers who earlier stopped her son, she said.
Johnson has sued the city over the issue involving her son. That matter is still in court.
Johnson in 2009 said Benji had gone down the street from their home to play basketball, but she realized he had not cleaned up his bedroom and had his sister go down the street to get him so he could finish his chores.
Benji, accompanied by the family's large mixed-breed dog, Lucky, ran home at his mother's request. He was met in the rear of the home by several police officers with their guns drawn.
Police said officers were in the area investigating alleged drug sales by minors. They also said the unleashed dog gave officers reason to fear for their safety.
Benji was not found to have done anything wrong.
Johnson said the protest Thursday and today outside city hall is about protecting innocent young people.
"What I hope comes out of this is that, no matter what happens to me [in court Friday], we can come together as a community and look out for our kids like my son Benji," said Johnson.
Johnson said there was a time in the black community when all kids were looked after by every member of the community.
"We lost that as a community, and we really need to get it back," she said.
Johnson, accompanied by her son and Weston, along with a host of supporters donned white and black outfits and walked along the sidewalks outside city hall for several hours Thursday and are expected to return today.
The signs held by supporters included phrases such as "stop the unjust treatment of just us" and "there is no justice, just us."