Jams booms with growth in space, services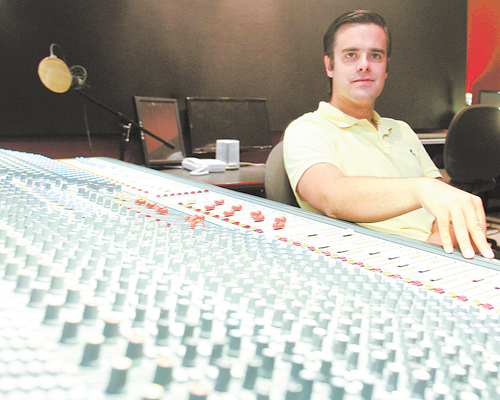 Photo
Kontinuous Jams Music, owned by Michael J. Moritz Jr., recently opened in a new Market Street location and features an expanded recording studio and new retail store.
By Ashley Luthern
aluthern@vindy.com
BOARDMAN
Kontinuous Jams Music's first Market Street location was 1,000 square feet.
Now, the recording studio alone is more than double that size.
Kontinuous Jams opened in its new location, 6981 Market St., about six weeks ago. The new storefront is about one plaza south of the old location and is the former home of Natural Health Foods & Barbell Center.
The biggest difference is the size — 7,000 square feet — and a new retail shop, said owner Michael J. Moritz Jr.
"For years, we did design and consultation for theaters, arenas and government centers to put in audio/visual and multimedia equipment. We order in so much volume on commercial projects that we can offer retail here at internet-low prices," he said.
The retail area also displays pianos, including Moritz's own line of grand pianos that are integrated with Apple computer products, such as the iPad.
Moritz, 29, said the best word to describe Kontinuous Jams is "comprehensive."
"Every side of the business is handled here," he said.
Kontinuous Jams offers a recording studio, music lessons, instruments sales, video production, commercial advertising and marketing and sound stage equipment.
Moritz founded the business in 1997 while a student at Cardinal Mooney High School and as it has grown, all three commercial locations have been on Market Street in Boardman.
Part of the business' expansion, Moritz said, can be attributed to Boardman schools which encourages students to join band in fifth grade and has a reputation for excellence in performing arts.
"Boardman's been good to us and the township works well with us. We've been here since 2000 and we continue to move closer to U.S. Route 224. I see us here for quite a while," Moritz said.
Township Administrator Jason Loree said Kontinuous Jams is one of about a dozen businesses that have expanded or opened new locations recently in Boardman.
"Kontinuous Jams shows growth and expansion and substantial reinvestment, and that's a trend we're seeing through the township. It shows that Boardman will continue to be a viable player in Mahoning County," Loree said.
Moritz said he's considered opening satellite locations, but has learned that after traveling to in-person meetings, connections nationwide can be sustained online. Kontinuous Jams does regional and national work on a regular basis, he said.
The studio, for example, has hosted national recording artists Shinedown, Puddle of Mudd and Tiffany.
"You can be in Youngstown and you can do things that are bigger than Youngstown," he said.