Chet Cooper's call to ump strikes like bolt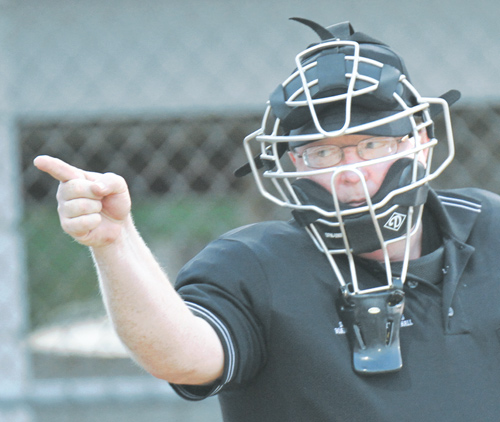 Photo
Little League umpire Chet Cooper
By Tom Williams
Chet Cooper's call to umpire struck like a bolt out of the blue.
"This was in Texas," said Cooper who has been a volunteer Little League umpire for 17 years. "My son [Chet III] was playing and I was in the stands with the other parents.
"If there is one thing that irritates me, it's how parents complain."
So when the umpiring crew searched for a volunteer, Cooper said, "My hand went right up — get me out of here.
"I went down on the field and said 'this is great.' One, I didn't have to listen to the parents. Two, best seat in the house and you actually get to see the kids play the game the way it's meant to be played.
"So I just got hooked."
Cooper's habit continued when he moved to Canfield 13 years ago to become a professor of microbiology at Youngstown State University. In addition to volunteering his time at Little League games, Cooper gets paid when he umps high school and Class B games, averaging between 70 to 100 games per year.
"As long as you've got thick skin and you close your ears during the game, it's fun," Cooper said.
His volunteer service to area baseball diamonds has been rewarded with the highest honor — an invitation to umpire at next month's Little League World Series in Williamsport, Pa.
Cooper is the second Mahoning Valley umpire to receive this honor. The other is Greg Giannios, who umpired at the 1998 Little League World Series.
"I'm so proud of Chet, he deserves what he is getting," said Giannios, Cooper's mentor. "He is very good, very consistent.
"When he went to regionals, he did an outstanding job; that's why he's going," Giannios said. "When you go to regionals, that's your grading period."
In 2005, Cooper umpired at the Little League regional tournament in Indianapolis.
Each year after that, he sent an application to Little League for a World Series invitation. Six times, nothing happened.
Cooper debated ending his dream, telling Little League District Administrator Gary Williams he was thinking of not applying.
"You hear there is a waiting list, you hear all the rumors," Cooper said. "This was my seventh year and I told Gary I thought it might be a waste of my time. He said, 'Chet, just do it, one more year, just try it one more year.'"
"Well, thank goodness I followed his advice. The next thing I know there's a letter in January."
Cooper will be one of 16 umpires at Williamsport. Thirteen are from the United States.
Cooper, who peppers his stories with a hearty laugh, said Little League does not send out rejection letters.
"To be perfectly honest, I get mail from Williamsport because I'm on their mailing list," said Cooper of the invitation he received in January. "It was real thin so I figured it was a flier for one of their camps.
"I was just about to toss it aside but then I opened it up and I read it about three times."
And screamed, according to his daughter Heather.
"I don't even remember what I screamed but she thought I was having a heart attack," Cooper said. "Thank goodness I gave it one more time, one more shot."
Giannios said Cooper's news gave him goose bumps.
"It was like d j vu," said Giannios, who added that the local umpires have been pushing hard to get someone else to earn the Williamsport trip. "We've had six guys at regionals. Boy, this is fantastic and we'd like for more people to be doing this."
This weekend, Cooper will be umpiring doubleheaders at the state tournament for 11-12-year-old teams in Hamilton.
"It couldn't happen to a nicer guy," Williams said.
Next week, Cooper will celebrate his 31st wedding anniversary with Karen, his biggest supporter.
Cooper described her as "my long-suffering wife who really understands this is a good gig, so she's really be great about it. I don't even remember life before her any more."
Karen said umpiring provides her husband with stress relief.
"But he hasn't mowed the grass in about four years," she said. "He loves it. It is avocation.
"He works so that he can umpire. And work is very stressful sometimes so when he comes out to umpire, he can relax, burn off some energy. He loves the kids."
Cooper grew up in nearby Rochester, Pa. He said Terry Francona (former Boston Red Sox manager, current ESPN "Sunday Night Baseball" analyst) is the most impressive amateur player he has ever seen.
"He played for New Brighton, I played for Rochester," Cooper said of his high school days. "He was the best hitter I've ever seen in baseball — the best."
Cooper received his undergraduate degree from the University of Pittsburgh at Johnston and his master's degree and Ph.D at the University of Texas.
His jobs included working for the New York State Health Department in Albany, teaching at Case Western Reserve in Cleveland and helping to run a research center for the University of Texas in Galveston.
At YSU, Cooper also is chair of the academic senate, president of the research foundation and faculty athletic representative to the NCAA. Twice, he has earned a Distinguished Professor Award for Scholarship.
As serious as that all sounds, it's no wonder that Cooper appreciates a good laugh. His sense of humor can be seen and heard on the ballfield.
Once when a coach was getting a little too vocal with his opinion about balls and strikes, Cooper walked into the dugout and called "Play Ball" to resume the game.
When asked what he was doing, Cooper told the coach that he figured that "the view in here must be better so I'll try it."
Cooper said the coach kept his thoughts to himself the rest of the game.
As Little League District Two's umpire-in-chief, Cooper is at home at the Fields of Dreams complex, the site of all area tournament games.
"This is my home, where I started, where I do most of my games," said Cooper who visits his hometown and parents about once a month.
Arguing with a guy who has a Ph.D in biology is usually not the wisest move.
"There are all sorts of funny things that happen," Cooper said of umpiring. "It's incredible what you hear out of parents' mouths.
"But I understand the emotion of them wanting their child to excel."