Boardman motel's closing pleases neighbors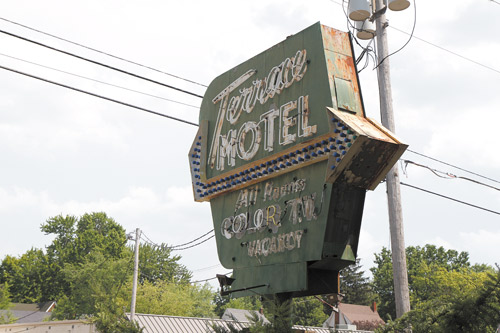 Photo
Boardman Township and Mahoning County officials announced the awarding of $75,000 in Community Development Block Grant funding to demolish the Terrace Motel on Market Street, which has been boarded up since 2003.
BOARDMAN
Terry and Janice O'Halloran have lived in a home on Oak Knoll Drive behind the Terrace Motel since 1985.
Between then and now, they've watched the hotel deteriorate.
"When it was open, there was a drug issue. Beer bottles were thrown over the fence into our back yard. There was loud music, and we could hear crowds of people fighting," Terry said.
When the O'Hallorans and about a dozen of their neighbors heard Wednesday afternoon the township had received a $75,000 Community Development Block Grant to demolish the motel, they were very pleased.
"I'm just delighted," Janice said. "This thing needs to go."
Township and Mahoning County officials made a formal announcement Wednesday at the Terrace Motel. This is the first time the township has received CDBG funds, trustees said.
Anna DeAscentis, county commissioners' grants business manager, said the grant money will likely arrive in October. She said the township is responsible for asbestos testing and engineering and design, but that once that is completed, the county will bid out the project.
The deadline for the motel to come down, per grant requirements, is Dec. 31, 2013, but DeAscentis said these projects typically take place during normal construction season, in the spring or summer.
She said the project underwent a review process, as did all other proposals from other communities in the county, and was one of four chosen to be sent to Ohio Department of Development for consideration.
Commissioner Carol Rimedio-Righetti said county wants to clean up its main corridors, such as Market Street.
"I can't wait till [the motel] is gone," she said.
Trustee Chairman Brad Calhoun said the township has dedicated $50,000 for the motel demolition, but hopes it isn't needed and the funds can be used to address other problem properties.
Calhoun said the township plans to take over ownership of the motel property through a land bank and either turn it into a green space or sell it if someone wants to commercially develop it.
But before that can happen, the township will complete title searches and notify all lien and property owners to rehabilitate the property or it will be torn down, said Zoning Inspector Anna Mamone.
"We can't pose the threat of demolition, unless we have the funding" to follow through, she said.
The motel has made numerous appearances throughout the years on the township's nuisance property list, which cites properties for high grass or debris.
Mamone said there have been no major improvements to the motel since it was boarded up in 2003.
The 6,458-square-foot motel was built in 1957.
"Back then, Market Street was a two-lane highway and these were mom-and-pop motels. At some point, it was a great place," Mamone said.
Neighbors and officials praised the motel ownership under the Morgante family, who owned and operated the motel from 1976 until 1995, according to Mahoning County auditor records.
The motel was sold for $225,000 in 1995 to Jitendra Kapasi, of Streetsboro, and in June 2011, it was turned over to Trupti Kapasi, also of Streetsboro, with a listed $0 sale price, according to auditor records.
The motel was boarded up in November 2003, when it was declared a nuisance after the police and fire departments were summoned to the business 45 times between January and October of that year for complaints ranging from theft to robbery to drug abuse.
In September 2003, officers raided the motel and arrested six people on several charges, including drug trafficking, according to Vindicator files.
As the motel declined, neighbors continued to keep an eye on the property and called to report problems, said Trustee Larry Moliterno.
"The driving force has been the neighbors," he said.
Diane DeFrank lives on Oak Knoll Drive near the O'Halloran's and called the motel a "big problem" that she's glad to see go.
"It's an eyesore," she said. "We put our blood, sweat, tears and labor into our homes. We don't want to see our neighborhood deteriorate."