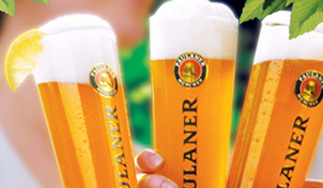 ---
Each year in June, large and small breweries across the world release their summer seasonal beers. The style and flavor profiles are as diverse as the countries they originate from and the people who enjoy drinking them.
The history of summer seasonals goes back several centuries to Bavaria, where brewers were tasked with making lighter, yet still flavorful, beers for people to enjoy during the warmer weather.
While much has changed over the past 400 years, the general concept remains the same: Offer people a lighter, refreshing and flavorful beer that is more enjoyable and easier to drink during the hotter months. It is impossible to chronicle all of the current styles, but we can break them down into two distinct categories.
The world's brew masters seem to get more creative and adventurous each year with their summer offerings. Why not step outside your normal beer routine and enjoy something a little more refreshing and enjoyable during the hot days to come?
Wheat beers, Kolsch ales and pilsners
The tradition of brewing wheat-based beer and pilsners goes back several centuries. Although Germans were the first to do it, breweries from around the globe now produce these beers for enjoyment during the summer. Here's a look at a few:
Paulaner Hefe-Weissbier: The No. 1 selling wheat beer worldwide. Centuries of German brewing tradition go into this great wheat beer.
Goose Island Summertime: German brewing tradition meets one of America's most respected micro breweries. This Kolsch Style Ale is light but offers great flavor.
Dundee Summer Wheat : Aromatic and crisp with hints of floral and citrus from the Centennial Cascade and Chinook hops.
Great Lakes Wright Pilsner: Utilizes the Bohemian tradition of bottom fermentation, which eventually became known as "lagering". Uses Hallertau and Czech Saaz hops.
Gray's Wisco Wheat: German-style ale brewed with Belgian malted wheat and domestic hops. Mildly hopped with an attractive, fruity aroma and a creamy finish.
Fruit Beers and Citrus Ales
Beer lovers have been adding fruit to their summer seasonals for five centuries. A slice of lemon, orange or other fruit wedged onto the rim of the glass accentuated the beer and made it more refreshing.
These days, many breweries infuse the fruit right into the brewing process. Here's a look at a few:
Lost Coast Tangerine Ale: Incredibly refresh-ing citrus ale perfect for hot days! Brewed with a combination of wheat and crystal malts and finished with Perle hops.
Thirsty Dog Raspberry Ale: This Ohio-based brewery infuses the enticing aroma and flavor of fresh raspberry into this unique and refreshing fruit beer.
Leinenkugel Summer Shandy: A Wisconsin take on a German Radler style ale. Crisp, refreshing and light with natural lemonade flavor. Easy to drink and enjoy on hot days.
Samuel Adams Summer Ale: An American wheat ale that uses malted wheat, lemon peel, and Grains of Paradise, a rare pepper from Africa first used by brewers in the 13th century to add a crisp and spicy flavor.
Contact Brian at brian.fry@myvalleyvino.com or by visiting www.myvalleyvino.com