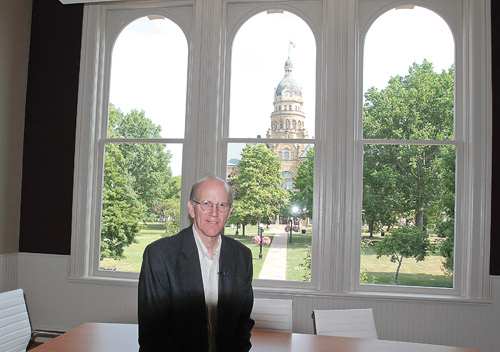 Photo
The Raymond John Wean Foundation has completed a 10-month, $2.5 million restoration of new offices at 147 W. Market St. in downtown Warren. Gordon B. Wean, chairman of the board and a third-generation descendant of Raymond John Wean, is in one of the meeting rooms overlooking historic Courthouse Square.
By Ed Runyan
WARREN
Anyone with an eye for architecture, design or art should make an appointment to visit the Raymond John Wean Foundation's new offices on West Market Street downtown.
The foundation gave reporters a tour Tuesday and is dedicating the facility at an invitation-only event today.
Free tours are available by calling 330-394-5600 at least two weeks in advance.
It would be easy to gaze a long time from inside an eye-pleasing second-floor meeting room through three arched windows that look squarely across Courthouse Square at the historic Trumbull County Courthouse.
For those with more modernist tendencies, there's the bottom floor, where 2-inch thick exposed beams and exposed limestone-and-mortar walls dating to the Civil War coexist with contemporary furnishings and office space.
The main floor, where the Trumbull County One-Stop office operated several years ago, was once a department store. Now it's a meeting room that can accommodate 120 people.
The 10-month, $2.5 million restoration carried out by the Chesler Group of Cleveland provided the philanthropic Raymond John Wean Foundation with office space for its staff, for other nonprofits and for the community.
Gordon B. Wean, chairman of the board and a third-generation descendant of Raymond John Wean, seemed especially excited about the 6,000-square foot bottom level, where six offices are available for start-up nonprofits.
One of the organizations that enjoyed the foundation's help to start up in recent years, the Trumbull Neighborhood Partnership, already has moved into two of the offices.
Officials with the Tech Belt Energy Innovation Center will use office space here while its offices are being renovated at another West Market Street store front nearby, Wean said.
"This is a way to provide in-kind support for organizations that don't have their own office," Wean said. "It gives them state of the art technology, information technology, audio-visual resources and proximity to other nonprofits with similar missions.
"I see us as giving them the tools to improve the community," Wean said.
Each year, the foundation awards about $4 million to nonprofit Mahoning Valley organizations with a focus on economically disadvantaged people and neighborhoods.
Industrialist Raymond John Wean started the foundation in 1949 after building a successful Warren-based company that provided services to companies in the flat-rolled steel industry.
Michael Chesler, president of the Chesler Group, said the bottom level of the three-story structure was the biggest challenge because its ceilings were not high enough in the beginning, and because it was nearly at the level of the Mahoning River, it was damp.
"This was a dungeon," Chesler said.
The floor was lowered 18 inches, the historic stone and wood preserved, and new amenities were added such as a break room, work room with printer and copier, exercise room and shower room.
"It was hard to get right, but now it's a cool place, the kind of place I would like to work," Chesler said.
Besides the original stone and wood, Chesler also saved doors on the top floor dating back to the 1860s and 1920s.
Paintings on the walls that were loaned to the foundation by the Butler Institute of American Art for the grand opening provide additional points of interest.
Jeff M. Glebocki, president of the foundation, said he thinks the new Wean Foundation offices can inspire good things in downtown Warren in the same way the foundation seeks to inspire community involvement.
"I think this sets the bar high for what can be done with restoration of a historic building," he said. "Maybe others can use it as a model of what can be accomplished.
"It's a long-term investment in downtown Warren and the whole Mahoning Valley," he said.