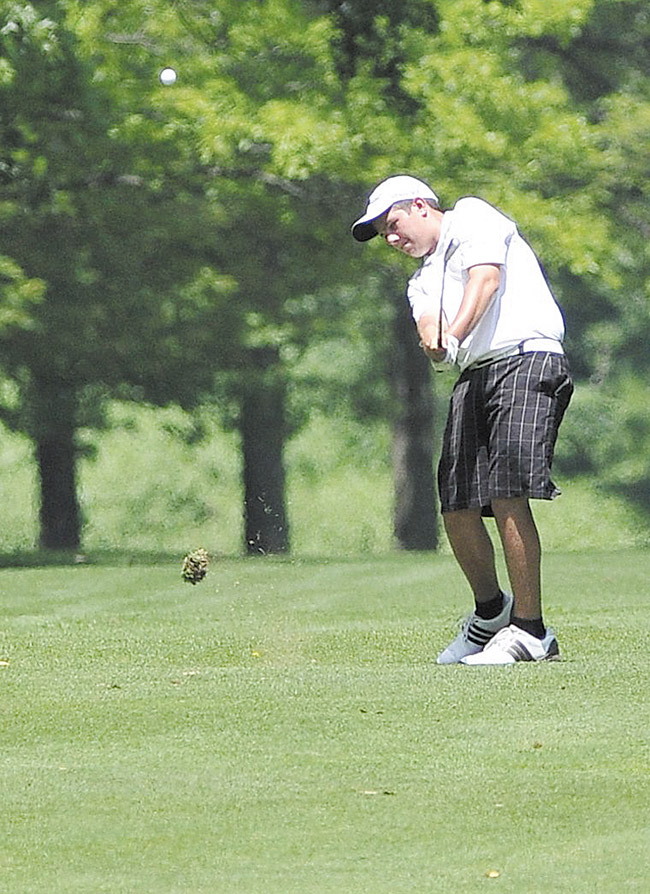 ---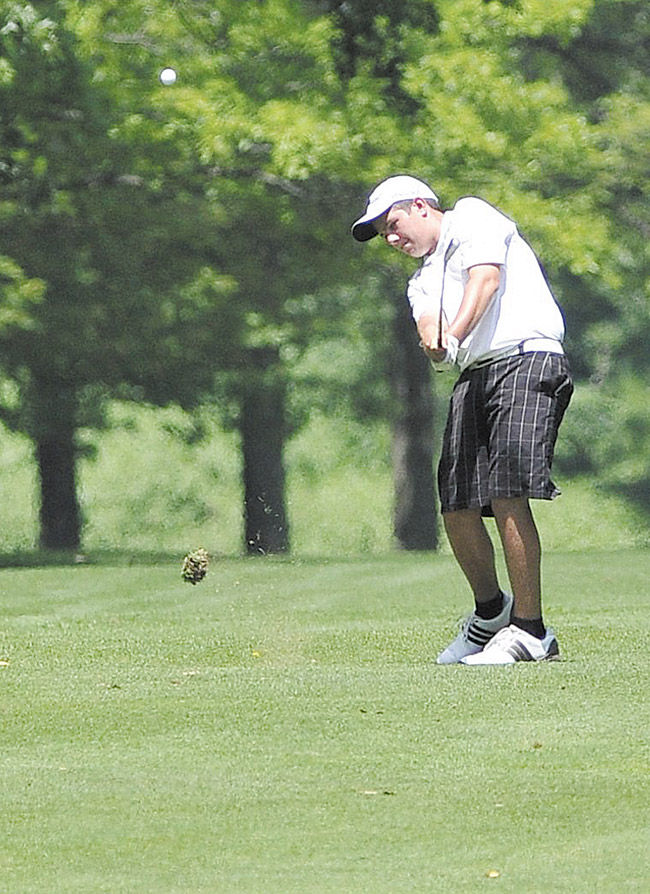 Photo
Donavon Ray follows through on his swing from the fairway on the on the 14th hole at Tamer Win in Cortland at Monday's Greatest Junior Golfer of the Valley qualifier. Ray's 80 placed second and secured a qualifying spot for Saturday's 12-14-year-old finals.
By Ryan Buck
CORTLAND
Over the last two months of play in the Greatest Golfer of the Valley juniors competition presented by Famers National Bank, one of the prominent themes has been redemption.
It's not been unusual to see players who've narrowly missed victory at previous events to rise to the occasion later.
Monday's sixth and final qualifying event at Tamer Win Golf and Country Club saw two fine examples in Cory Stefanec and Buster Thomas.
After falling one stroke shy of the qualifying score at Diamondback Golf Course last week, Stefanec used a back nine surge to fire the low round of the day with a 76 and clinch a spot in Saturday's tournament finals at Trumbull Country Club.
"It feels good to come back strong again and play solid to get a chance to play at Trumbull," Stefanec said.
Trailing by two stokes heading into the final nine holes, Stefanec birdied two of the last three holes to break away from the field.
"I started off pretty strong. I think I parred five or six holes in a row, then I fell back with a bogey, but I came back strong on no. 18 and putted in for birdie," said Stefanec, who will be a senior at Cardinal Mooney in the fall.
Thomas, meanwhile, was one of four golfers tied for the final qualifying score. Bradley Miller, Warren Kozlowski, Billy Phillips and Thomas all finished with 79s.
Per course rules, Thomas was awarded the tie-breaker after besting the others with his scores on holes 17 and 18. Thomas went par-par to finish his round.
"It feels really good. Usually I don't do so well and I tie and then I lose," Thomas said.
"The competition was strong. There's a lot of great golfers here."
Thomas, who fell out of contention at the Tam O'Shanter and Diamond Back qualifiers, showed poise on a more comfortable course, despite the urgency to score well.
"I haven't played well on those courses, but I like this one. It's more flat and it's fitting to my eye," said the rising junior from Lakeview High "I try and come into rounds with no expectations so that I don't press and shoot worse."
With all six qualifiers in the books, Stefanec and Thomas must set their sights on Saturday's final round. They'll meet 10 other qualifiers in their 15-17-year-old age group, many of the finest players in the area.
"Well I know there's going to be a ton of good golfers there," Stefanec said. "I'm just going out to try and have fun. If I play good, I play good. If I don't, I don't. There's more rounds to come."
In the 12-14 year-old age group, Donavan Ray, of Howland, earned a trip to Saturday's finals with a score of 80. Austintown's Ryan Theis carded an 87 for the second spot.
Mark Standohar, winner of the Pine Lakes event, led the group with a 79.
Payton Snyder, Ryan Dugan, Andrew Letscher, and Tavish Burd earned the qualifying nods at last week's host site at Diamond Back Golf Course.
Saturday's final round at Trumbull Country Club will tee off at 1 p.m. The field will feature the 12 qualifiers in the four divisions of boys and girls.
For more tournament information, see vindy.com/golf and on Twitter @vindygreatest.