Youth Flag Football League donates to Make-A-Wish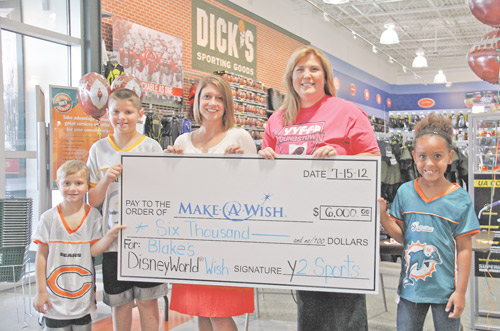 Photo
Luke Porter, 5, of Austintown; Gavin Porter, 10, of Austintown; Kim Sazima, of the Make A Wish Foundation, Amy Giles, league organizer for YYFFA; and Alexis Giles of Poland hold a $6,000 check given to the Make A Wish Foundation by participants in the Youngstown Youth Flag Football Association.
By Sean Barron
BOARDMAN
Alexis Giles had fun last spring trying to win football games by running certain play patterns, some near the sidelines.
The 8-year-old Paul C. Bunn Elementary School student also enjoyed winning people's hearts while on the other side of the boundary.
"I walked around and asked people if they wanted to donate," said Alexis, a member of the Youngstown Youth Flag Football League, referring to her efforts to obtain donations from attendees to benefit the local Make-A-Wish foundation.
On Sunday, though, Alexis was among those holding not a football, but a large check that her generosity helped make possible. It also was the main attraction of a check-presentation ceremony Sunday at Dick's Sporting Goods, 550 Boardman-Canfield Road.
A few months ago, Alexis and other YYFFL members raised more than $6,200, much of which will be in honor of Blake, a Wish Child who suffers from leukemia.
As a result, the 4-year-old Columbiana boy will see his wish of going to Walt Disney World near Orlando, Fla., fulfilled this summer, noted Kim Sazima, development associate for Make-A-Wish foundation's Northeast Ohio region.
Alexis was unable to say how much she and some friends raised but was grateful for people's kindness. She also was excited that her team was undefeated, she added.
Another presence along the sidelines during YYFFL games was 10-year-old Gavin Porter of Austintown, who also found that most fans whom he approached for donations received him warmly.
"It felt good," said Gavin, a Frank Ohl Intermediate School student and Pittsburgh Steelers fan who listed math and science as his favorite subjects and Steelers' quarterback Ben Roethlisberger as his favorite player.
Gavin was at Sunday's gathering with his father, Mark Porter, and 5-year-old brother, Luke, who also plays in the flag-football league.
The YYFFL formed about five years ago and has boys and girls age 5 to 14 from Mahoning, Columbiana and Trumbull counties, noted Amy Giles of Poland, a league organizer and Alexis' mother.
The league plays seven games each during two seasons every year, one each in the fall and spring, with 10 children per team, Giles said, adding that the youngsters also learn skills that can translate to other sports.
In addition, "It gets kids from other areas [of the Mahoning Valley] together. They form friendships with kids they ordinarily wouldn't have met," she continued.
Make-A-Wish works to grant the wishes of youngsters age 2 Ω to 18 with life-threatening medical conditions, Sazima noted, adding that her organization shared Blake's story with the YYFFA. The fundraising efforts on Blake's behalf took roughly seven weeks, she added.
Those interested in joining the YYFFA should do so before Aug. 15 by visiting www.yffayouth.net. People interested in volunteering for the local Make-A-Wish chapter are asked to call 216-241-3670 or go to www.makeawishohio.org and click on the "volunteering" link.