Family, friends honor Seamans' 65th anniversary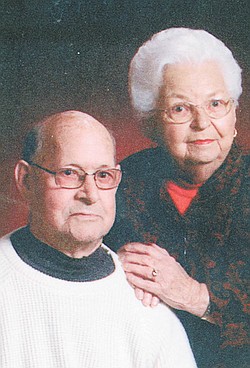 Photo
Mr. and Mrs. Richard Seaman Sr.
CANFIELD
Richard Sr. and Edna Seaman of Canfield celebrated their 65th wedding anniversary at a family gathering July 8 at the home of their son, Richard (Charlotte) Seaman Jr.
Also attending were their daughters, Linda (Philip) Astorino and Debi Seaman; three grandchildren; three great-grandchildren; four step great-grandchildren; and close family and friends.
Mr. Seaman and the former Edna Wehr were married July 19, 1947, at Cornersburg Methodist Church.
Mrs. Seaman was a Girl Scout leader for many years and was an accomplished seamstress.
Mr. Seaman retired from GM Lordstown in 1990 and was one of the first employees when the plant opened.
He also was a master carpenter and a charter member of the Canfield Ruritan Club and was involved with the Canfield Baseball Organization.
The couple are members of Canfield Christian Church, where Mr. Seaman served as a trustee.