Published: Sat, July 14, 2012 @ 12:09 a.m.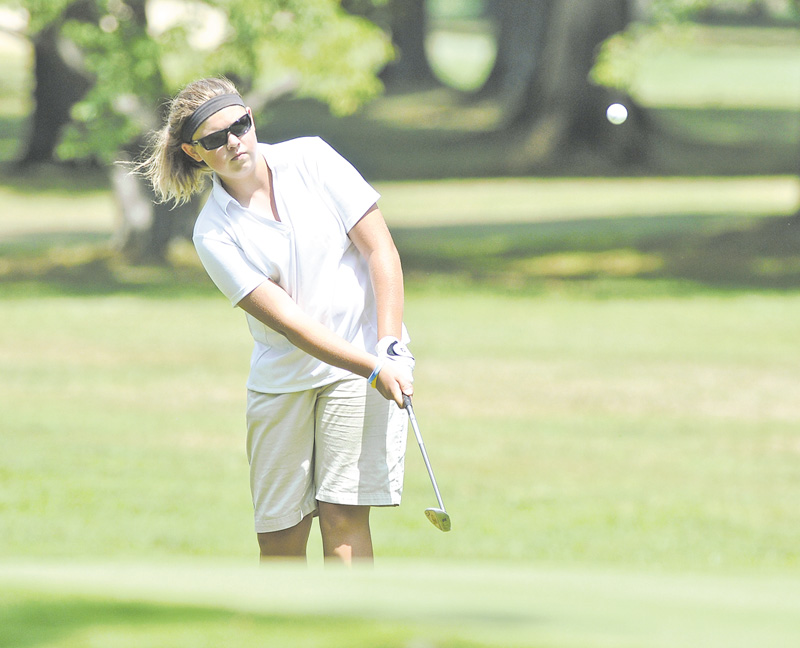 Photo
Kaylee Neumeister chips out of the short rough and onto the green on the 15th hole at Friday's Greatest Junior Golfer qualifier at Tamer Win in Cortland. Neumeister won the 12-14-year-old age group.
By Ryan Buck
sports@vindy.com
CORTLAND
The sights and sounds of the massive U.S. Air Force C-130 Hercules aircraft continuously descending across the calm afternoon skies and bright green countryside made for quite a setting as 36 young ladies took on Tamer Win Golf and Country Club Friday.
The final four spots in The Vindicator's Greatest Golfer of the Valley juniors competition finals were up for grabs in a somewhat unique environment for the pivotal sixth and final qualifying event.
The players certainly noticed the 76,000-pound behemoths headed for the Youngstown Air Reserve Station six miles away, but were unfazed by the looming distractions.
"Every other tee box that I was on, it seemed right before I hit a shot a plane would go by and I'd have to wait for it to go by before I shot," said South Range High's Brittany Schneider, who earned the first qualifying score in the 15-17 age group with an 87. "I go to that golf tournament every year, but there's never been planes flying overhead.
"I don't know about other people, but I thought it was neat and cool; something I'd never seen before."
In her first Greatest Golfer appearance, Schneider's strong score of 39 on the back nine clinched a spot in next week's final round after it took a while for her to get on track.
"I haven't played very often lately. The front nine was like learning and the second nine I came back," she said.
The second qualifying score came courtesy of a scorecard playoff. Western Reserve High's Abby Larimer and Canfield's Olivia DeMartino finished with matching 92s. Larimer scored one better on the tie-breaking hole, sending her to next week's finals.
With one last chance to qualify amongst a strong field, Larimer wanted to atone for a disappointing performance at last week's event.
"My mindset was to just play my game and not worry about anyone else's. I just wanted to improve on my last tournament [showing] and play like I know how to play.
"The competition's steep," she explained. "A lot of the girls can shoot well and they've been playing longer than me so they have an advantage, but I tried not to worry about anybody else."
Larimer found confidence on Tamer Win's narrow fairways, a layout similar to her family's own set-up at Lake Milton's Lakeside Golf Course.
"I hit a lot of my five [wood] hybrid," Larimer explained. "It got me out of trouble if I was in it and I always knew it was my favorite club that I could hit well. I knew I'd be okay, especially on the back nine with all the trees."
Jacinta Pikunas, who has a scheduling conflict with next week's finals, used a 3-under 32 on the front nine en route to a low round of 72. Previous qualifiers Michele Whiteleather and Gina DePasquale fired rounds of 80 and 84, respectively.
In the 12-14-year-old division Boardman's Jenna Vivo was consistently accurate off the tee, missing only one fairway. A birdie, par, par finish propelled her to the first qualifying score of 82.
Taylor Horn, of Cortland, nabbed the last spot with a score of 109. Kaylee Neumeister, who qualified in the third event, came home with the low round of 81.
The four young ladies will join last week's Diamondback Golf Club grouping of Whiteleather, sisters Gina and Gillian Cerimele, and Sarah Brindley at Trumbull Country Club July 21 in the tournament's final round.
The boys qualifying event at Tamer Win takes place on Monday with a field of 47 teeing off at 8:30.
For all tournament information and coverage, log on to vindy.com/golf and follow on Twitter @vindygreatest.