Boardman to take a break from OK'ing vendors
Bikini Baristas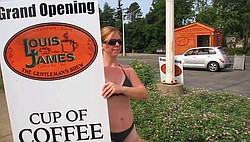 Video
Baristas at a new coffee shop in Boardman wear bikinis.
By JAMISON COCKLIN
and ASHLEY LUTHERN
news@vindy.com
BOARDMAN
Township trustees are likely to discuss a temporary moratorium on transient vendor permits — such as the one used to open a coffee shop with bikini-clad servers — at their Monday meeting, says the township administrator.
Administrator Jason Loree said the township isn't singling out Louis and James Coffee Co., which opened in a trailer last week at the corner of Brookfield Avenue and Market Street.
The idea of a moratorium, he said, came up during discussions about updating the township land-use map, and the township would resume issuing the transient vendor permits when the land-use map is finalized. The permits allow businesses to operate at a temporary location for three months.
"Anyone who already has a permit would still be able to keep it," Loree said. "... There are actually a lot for people who get the permit to do the door-to-door knocking, and we're looking to stop all of that."
An exception would be made for agricultural grocers, such as farmer's markets, Loree said.
Chris Saloom, 31, of Vienna and his business partner, Mike Murphy, began building the trailer for Louis and James Coffee Co. in April and then began the permitting process with Boardman Township.
Saloom said the only disagreement with Boardman officials was over how far off the road the trailer would rest.
"We don't know quite yet if will have to move from Boardman. We're looking for other locations right now; how it'll work out, I don't know," he said.
On Friday, as word of the new business spread, Melissa Morse, 35, one of two baristas working, was busy mixing up a batch of strawberry smoothies and exulting over the 27 customers she already had served before noon.
"Everyone's been really nice," she said, wearing a navy blue polka-dot bikini. "We haven't had any problems. It's a fun job, everyone's really easygoing and all of the girls working here get along well."
Saloom said he has plans to open four or five Louis and James throughout the area by the end of the year. He said neither himself nor Murphy has borrowed any money against the business; instead, they have invested their own funds.
At $100,000 for a trailer and all the equipment it takes to make tea, coffee and smoothies, Saloom said it won't be cheap. At this point, though, the coffee stand is having success.
"We heard about it yesterday," said Nick Serra, 24, as he stood sipping on a smoothie while on a break with four of his male co-workers. "So far, so good. I like what I see."
Morse laughed, and said she had no qualms about wearing a bathing suit to work.
"It's like anything else: You go to the beach, you wear a bathing suit," Morse said. "It's just like being a waitress at a restaurant, except we have a different uniform."
Both Saloom and Morse said the coffee stand has received no complaints from officials or employees who work at the Akron Children's Hospital across the street.
"As a matter a fact, we had a guy come from over there yesterday and grab a menu," Morse said.
More like this from vindy.com