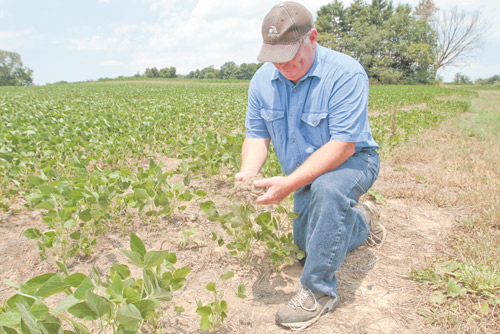 ---

Photo
Sam Detwiler, owner of Detwiler Farm in southern Mahoning County, holds a clump of dry soil in front of his soybeans. Detwiler's soybean crop has patches where the plants did not grow, and those that did are shorter than normal.
SEE ALSO: Technology helps limit corn losses in drought
By BURTON SPEAKMAN
bspeakman@vindy.com
YOUNGSTOWN
Without more rain in the next few weeks, corn and other field crops may have dramatically lower yields in the Mahoning Valley.
Sam Detwiler, owner of Detwiler Farm in southern Mahoning County near Columbiana, has fields of crops growing inconsistently with patches of soybeans missing and corn that is 2 feet or more lower than average.
"We probably need an inch of rain in each of the next few weeks," he said.
The only year that can be compared to this year is 1988 in dry conditions, but this year has not been as bad, Detwiler said. Typically corn should be 7 feet tall by this point and in most places it's well short, he said.
"I normally get about 150 bushels an acre for corn. This year I might get 100 bushels an acre if we get rain; if not, it could be a lot less," he said. "The ears we will have will be smaller than normal"
The next two or three weeks are key for the area's corn and soybean crops, said David Marrison, agent for the Ohio State Agricultural Extension in Trumbull and Ashtabula counties. He said Trumbull County is faring better than Columbiana or Mahoning counties.
"The corn has just started to tassle [produce ears]," he said. "We need an inch to an inch and a half of rain within the next few weeks."
The weather forecast for the Youngstown area shows a chance of rain starting Friday and continuing through the weekend, according to Accuweather. The question is will whatever falls be enough.
"In this part of the state, we can undergo a dry year better than we can withstand a wet year," Marrison said.
The rain that fell on July 3 and July 4 helped local crops, but not all areas of the Mahoning Valley benefited, he said.
Those who planted earlier this year appear to have crops that are doing a little better because of more rain in early spring, Marrison said. "Just a few weeks ago we were looking at one of the best crops on record, but now we might be looking at one of the worst," he said.
Despite a few periods of rain during the last week, the entire Mahoning Valley is classified as being within a moderate drought by the U.S. Drought Monitor. The season outlook is for the current drought conditions in the area to persist or become worse, according the National Weather Service.
More of the United States is in moderate drought or worse than at any other time in the 12-year history of the U.S. Drought Monitor, according to a release from the National Drought Mitigation Center at the University of Nebraska-Lincoln, which operates the monitor.
AccuWeather.com reports heat and drought threaten to take their toll on the northern part of the corn belt in the coming weeks including Iowa, according to Alex Sosnowski, Senior Expert Meteorologist for AccuWeather.com.
The impact of heat and drought is likely to spread into more of the Midwest this week, he said.
The dry weather has already had an impact on produce costs, said Henry Nemenz, owner of 3 IGA stores and 7 Sav-A-Lot stores.
"We go to an auction in New Wilmington, Pa., and the ears of sweet corn are smaller than normal," he said. "The average person who travels through the Youngstown area would look at the crop and think it looks pretty good."
But without some more moisture the development will be stunted, Nemenz said.
In addition, a national corn shortage will cause prices to rise at the grocery store, he said.
"I hear people complain about the prices but we're lucky as Americans. We spend on average about 20 percent of our income on food," Nemenz said. "In Europe and most everywhere else they spend about 40 percent of their income on food."
In some parts of Ohio there will not be any corn ears and the stalks will be turned into animal feed, said Anthony Bush, vice president of the Ohio Corn and Wheat Growers Association.
"Throughout the state 37 percent of the corn crop is being rated as good; that means more than 60 percent is not good," he said.
There is a chance that crops in Iowa, Nebraska and Minnesota could help prevent rising prices in grocery stores for products that contain corn, Bush said. Although that is in doubt with reports of the drought spreading north.

Prices have risen for corn, though the increased costs will not necessarily mean more income for farmers, he said.
"Rising prices don't help if you don't have anything to sell," Bush said.
For those farmers with crop insurance, payments should allow them to continue farming next year, he said.