Team Bannon ready to ride again for ALS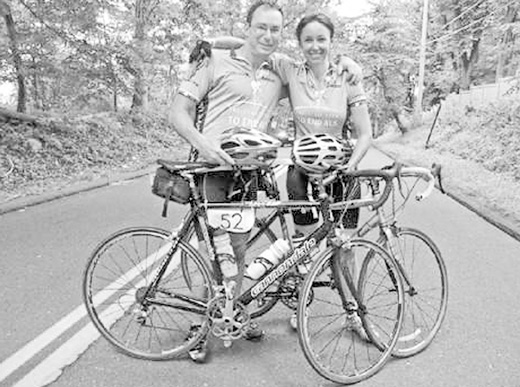 Photo
Team Bannon — Breen and Lisa Bannon — are preparing to ride July 20-22 on their fourth Tri-State Trek, a three day, 270-mile bike ride from Boston to Greenwich, Conn., to raise awareness about amyotrophic lateral sclerosis and funds for research. The siblings, Lisa of New Jersey and Breen of Youngstown, ride in honor of their brother, Chuck Bannon, who died of ALS, also known as Lou Gehrig's disease, in 2009 at age 44.
YOUNGSTOWN
Team Bannon, which includes siblings Breen O. Bannon of Cornersburg and Lisa Bannon of New Jersey, is preparing for its fourth-consecutive Tri-State Trek, a three-day, 270-mile bike ride to raise awareness and money for ALS research.
The ride, from Boston to Greenwich, Conn., is July 20 to 22.
Lisa and Breen, Youngstown natives, are riding in memory of their brother, Charles J. "Chuck" Bannon, who died of ALS in 2009 at 44; and to raise money for the Boston-based ALS-TDI, a leading research lab for amyotrophic lateral sclerosis, or ALS, also known as Lou Gehrig's disease.
Breen is vice president of Commercial Insurance Sales with Huntington Insurance in Youngstown; Lisa is one of the page-one editors at The Wall Street Journal in New York City.
There is no cure or effective treatment for ALS, a neurodegenerative disease that leaves its victims paralyzed, generally within five years after diagnosis.
But Lisa and Breen say they are excited that ALS-TDI is working on two new drugs that are considered promising as possible treatment for the disease.
The two drugs are in various stages of clinical trials, and Team Bannon's fundraising efforts go toward continuing those trials to see whether the drugs will be effective.
"We promised Chuck we wouldn't give up fighting for a cure to this mysterious disease; so we keep riding to raise money and awareness," Breen said.
Team Bannon added another rider this year, Hugh Macdonnell in New Jersey, whose mother-in-law is afflicted with the disease.
Team Bannon begins training on bicycles in April, riding long distance two to three times a week and working out in the gym and slowly ramping up their physical activity. By July, they are generally riding about 100 miles per week.
Breen said he expects to put in about 1,000 miles in training this year on the bicycle, and still sees the 270-mile trek as a major challenge. "Just like the disease, the ride is very difficult" he said.
"The training is really grueling and time consuming, but it's the best way we know of, right now, to keep up the fight to find a cure for the disease that killed our brother," Lisa said.
Team Bannon's 2012 financial goal is $16,000, with $10,940 raised to date. If you would like to contribute to the team's efforts, click here for more information.