EPA septic rule may force Leavittsburg church to close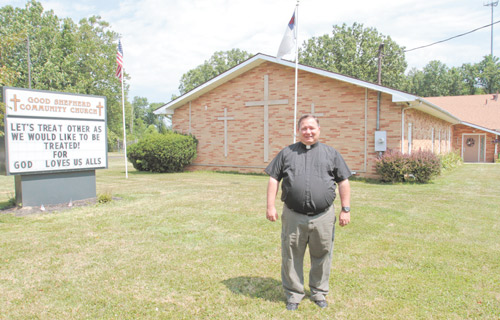 ---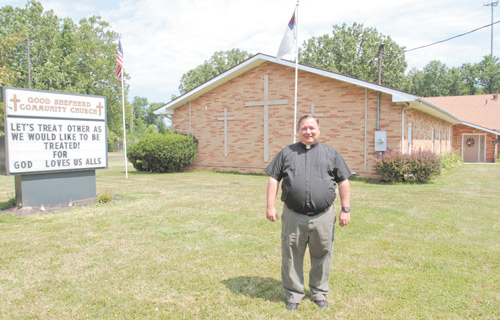 Photo
Pastor Dan Ellis of Good Shepherd Community Church on Eagle Creek Road near LaBrae High School is concerned he may have to close the building if the church has to pay an expensive bill to replace its septic system.
By Ed Runyan
LEAVITTSBURG
The pastor at a small, 3-year-old church says he might have to close rather than pay $30,000 to $60,000 to replace the church's septic system.
An Ohio Environmental Protection Agency spokesman, meanwhile, says the church should hire an engineer to determine the exact cost to fix its failing system before assuming it will be too high.
"I can't afford it; it seems like a no-win situation. I'm frustrated, but I have faith we're going to get through this," Pastor Dan Ellis of Good Shepherd Community Church on Eagle Creek Road near LaBrae High School said.
Ellis said between 20 and 40 people attend the non-denominational church, but it can hold many more, so the EPA says the system must be large enough to accommodate its maximum capacity.
The church has been doing well since it took over another church building three years ago, but a former church member reported the church's septic system to the EPA, Ellis said.
It took two days' worth of testing for the EPA and Trumbull County Health Department to determine that there was sewage coming out of the 1960s-era system in an unclean condition, Ellis said. The system does not produce an odor, Ellis added.
The church plans a rummage sale and a motorcycle fundraiser and has contacted state Sen. Capri Cafaro, D-32nd of Hubbard, to see if she can help.
Ellis said he believes he has only six months to come up with the money and doesn't believe it's possible.
"I'm just trying to figure out how much it's going to cost us," he said. "I don't know what to do."
If the problem becomes too much, the church will have to think about auctioning off assets and holding services in a church member's garage, Ellis said, adding that many of the church's members are senior citizens or low-income.
As for discussions with the EPA about some less expensive alternative, "They're saying their hands are tied. They have to live by the letter of the law," Ellis said.
"My fear is that the church will be broken up," and its members will disperse to other churches, Ellis said.
Mike Settles, EPA spokesman, said the church's first step needs to be to hire an engineer to explain what it needs and its options.
Settles said the church seems to be saying that it will have to pay $60,000 when it doesn't know yet if that's true.
A dye test conducted last month indicated that the church's septic system "doesn't work under today's standards" and that it discharges sewage into a storm drain, which means it is making its way into streams and other water sources.
"It's a potential health threat," Settles said.
Still, the EPA has never told the church it has only six months to correct the problem. "It's not the Ohio EPA shutting down a church," Settles said.
Cafaro said Senate Bill 110, approved two years ago, is supposed to provide a "menu of options" for septic owners, but the Ohio Department of Health hasn't finalized the rules associated with the law yet.
She has not heard back from the Ohio EPA or Trumbull County Board of Health since she contacted them a couple weeks ago about the matter, she said.
Cafaro said she hopes to help the church arrive at a solution that costs less than $30,000 to $60,000.