Poland Township Park to add four baseball fields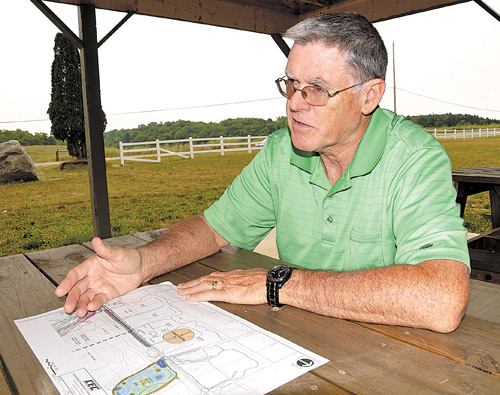 ---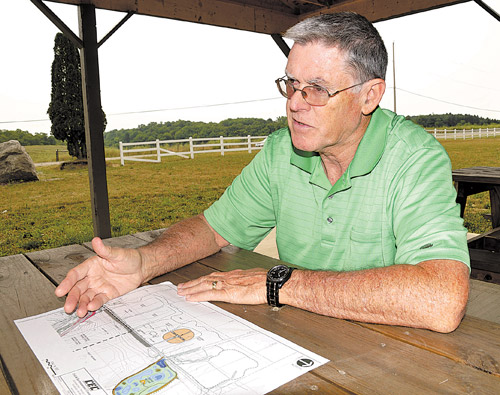 Photo
Mike Heher, park board president, shows off the blueprints for the enhancements that will include a drainage pipe.
POLAND
It's quiet during the week at Poland Township Park, with only the songs of birds and rustling breeze disturbing the silence.
But on the weekends, visitors can hear referees' whistles, children laughing and the thwack of a soccer ball getting kicked.
And those who run the park hope a new sound will be heard soon: the ping of a bat hitting a baseball.
The park, located between Cowden, Moore and Miller roads, opened in 2009 and is home to 11 soccer fields used by the Poland Youth Soccer Association. The next major project planned is the construction of four baseball fields.
"We're working on these four baseball fields and added a drainage pipe near the area where they'll be," said Mike Heher, chairman of the township park advisory board.
Since the park's opening, many improvements have been made including the installation of a playground and pavilion, bird houses, identifying signs on trails and handicapped-accessible, portable restrooms — and much more is planned.
The park is expecting to add 15 acres southeast of its current 77 after Ohio Department of Natural Resources signs off on Essroc's reclamation, Heher said.
The park is on property owned by Republic Services- operated Carbon Limestone Landfill, which leases the land to the township for $1 annually.
The additional acreage will be the site of a new sled-riding hill that should be ready in about two years, Heher said.
Also, plans for a seven-acre wetlands area have been sent to the Ohio Environmental Protection Agency for approval, and a cross-country course still is in the works, he added.
Heher and James Scharville, township administrator, recently met with Aqua Ohio about getting water to the park.
"We're trying to figure out a cost-effective way to do that. It will take a while to coordinate," Scharville said.
Almost all of work at the park has been done by volunteers, with the exception of the road department workers trimming some areas and building picnic tables, he said.
Scharville called the park an asset to the community.
"The park's doing well, and it's getting used," Scharville said. "Once we start with the winter activities, it will be used all year round."
Some residents near the property still have signs that say although they enjoy the park, they dislike the increased traffic. Heher said the park has tried to address that by restricting traffic in a one-way pattern on Saturdays during soccer games, and the soccer association has staggered start times, too.