Published: Wed, July 11, 2012 @ 12:00 a.m.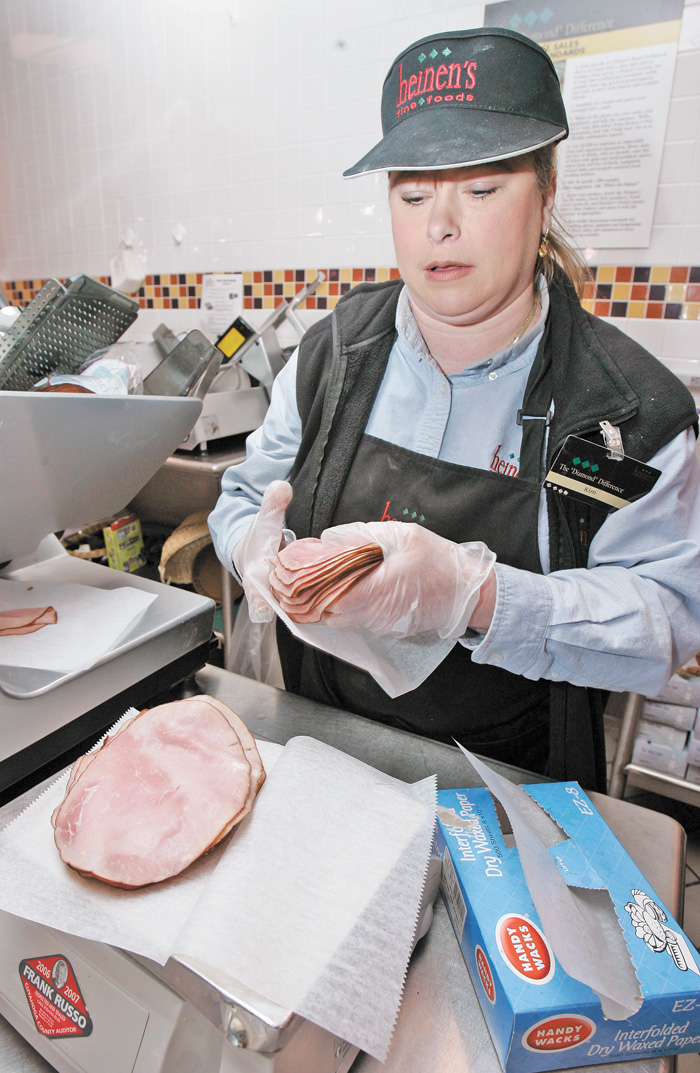 Photo
Kim Reynard slices Applegate black forest ham at Heinen's Fine Foods in Brecksville, Ohio. Heinen's Fine Foods offers meat, poultry, and egg products that are organic or "Certified Humane Raised and Handled" by the nonprofit organization Humane Farm Animal Care (HFAC.)
For the past few months I have had the opportunity to eat at some new places in the area. What I am learning along the way is how to tell what makes a restaurant unique.
It's not a matter of offering a different menu, as most of the restaurants around here have the same general dishes. A pasta is a pasta is a pasta.
What really sets meals apart is the quality of the ingredients used.
If you have been following me along my journey, you may have noticed my excitement when it comes to organic meats and fresh vegetables.
I have to be honest, though. I haven't always been this way. It wasn't that long ago that I ate at fast-food joints, because I was looking for quantity over quality.
Taking in that many calories in a short amount of time was satisfying, but then the real effects of this type of eating began to set in — nausea, stomach pains and eventual weight gain.
The funny part about this whole period was that I kept going back, because to be honest, it tasted good and satisfied that craving we all get. I didn't really care what it was.
You may have seen those documentaries on television about the inhumane treatment of animals and how those fast-food places get their meat.
Some people take that propaganda a little too literal and will go totally vegan without knowing who actually uses the products from those disgusting animal mills.
You may be surprised to learn that locally we have a lot of businesses that are advocates for local farm-raised animals.
When I made my transition to a foodie, I was working for a local butcher whose No. 1 priority is providing organic meats. I learned quickly from his customers why they felt it was important to purchase their meat from the local butcher.
Some said their moods improved and they experienced a decrease in the frequency of illness after they switched to his products. They said it was especially noticeable in their children.
One particular story was of a young boy who, at around 8 years old, had to start using deodorant. No boy that age should have that many hormones that deodorant is required.
His mother was wise enough to switch him to all organic foods, and within a month he didn't have to use it anymore.
You see, when you buy nonorganic meats, the animals have been injected with hormones that make their growth unnatural. When it gets to our plates, those hormones are still present and active, and then they get into our systems.
It may be more affordable, but the health effects of nonorganic foods can be horrific.
When I cook at home for my wife, family and friends, I want to make sure they get the best quality they can have. Over and over I am complimented on the taste of the food, but I know the real secret comes from the raw ingredients. They produce a richer flavor across the board. Sure, the way I cook it and spice it matters, but that only adds to an already good product.
The next time you are making a trip to the store or a restaurant, ask these simple questions: Do you buy your meat from a local farm? Is it grass-fed? Is it all- natural? What grade is your beef?
If the answers are yes and prime, then you are already making a wise decision for you and your family members. I guarantee you will taste the difference.