Family has had lasting role at festival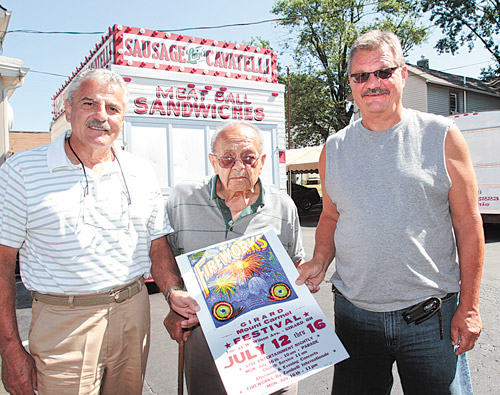 Photo
From left, Myron Esposito, Girard Mount Carmel society co-chairman, Fred Ragozzine, and Ray Ragozzine, chairman of the Girard Mount Carmel Society, stand outside the Italian Fraternal Home in Girard, the location of this year's Mount Carmel festival.
By Danny Restivo
Girard
Fred Ragozzine is a lifelong resident of Girard. The 86-year-old's memory of the annual local Mount Carmel festival stretches as far back as he can remember.
"We were into it like all the other families," said Ragozzine, who's family has had a lasting role in the local festival.
Fred's father, Pasquale, immigrated from Naples in 1910. His father played a major role in the earlier years of the local festival. Fred said he can still remember listening to Italian bands from the festival playing in his backyard as a child. His brother, Ray, served as chairman of the Girard Mount Carmel festival committee beginning in 1978. After his passing in 1997, His son, Ray Jr., took over and has been the acting chairman since. For three generations, the Ragozzine family has helped keep the Mount Carmel festival an annual celebration in Girard.
"It's the major tradition we have in Girard," said Ray Ragozzine Jr. "That's what its all about, it's about keeping tradition."
His brother-in-law, Myron Esposito, has served as the festival's co-chairman since Ray Sr.'s death, and believes the celebration is for all the people of Girard.
"We want to provide a good service to the community," he said.
The Roman Catholic festival, which celebrates the feast of the Virgin Mary within the Carmelite Order, is celebrated for five days in Girard and ends on July 16. The Girard Mount Carmel festival begins Thursday at 6 p.m. outside the Italian Fraternal Home on Wilson Avenue. The celebration will entail live music, a parade, games, food, but Ray Ragozzine Jr. said the Monday night fireworks display is what brings most people to the festival.
"For our fireworks, we got people coming from all over," he said. Ragozzine said the committee has spent more than $20,000 on this year's show. "We don't play around, we put on a display."
All the money made from this year's festival will go toward next year's fireworks, said Ragozzine Jr.
Even though its an Italian festival, the eldest Ragozzine believes the Mount Carmel festival in Girard wouldn't be possible without everyone in the community.
"It's not only the Ragozzines," he said. "You got to give credit to all the people involved."