Chamber: Put all 17 charter proposals on ballot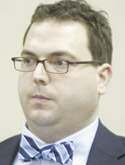 ---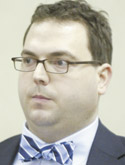 Photo
YOUNGSTOWN
The Youngstown/Warren Regional Chamber's board of directors is urging city council to give voters the opportunity to consider all 17 proposed charter amendments on the Nov. 6 ballot.
Councilman Mike Ray, chairman of council's legislation committee, criticized the chamber's recommendation, saying it is "premature," and that the chamber made that decision without talking to city council.
"We're still working through [them]," said Ray, D-4th, of the proposed charter amendments.
The chamber issued a statement Tuesday that its board made the decision after receiving a recommendation from its government affairs council.
The chamber's board and council believe city council, which has the final say on what goes on the ballot, should "let the voters decide" the fate of each charter amendment, said Thomas Humphries, the chamber's president and chief executive officer.
Among the key charter- review committee recommendations are: holding nonpartisan elections, eliminating council president as an elected position, creating an elected job of vice mayor, reducing the salaries of council members, and redistricting the city's seven wards.
"Let's not forget this is the same group that supported SB 5," Ray said of the chamber's endorsement in the November 2011 statewide election in favor of an issue that, if it had passed, would have altered union rights for public-sector workers.
City council passed a resolution last year in opposition to SB 5, an issue soundly defeated statewide.
"We're not always going to see eye to eye with the chamber on everything," Ray said. "I don't want to battle with them," but council disagrees with the chamber.
Council's legislation committee will meet at 5:30 p.m. Thursday in city hall to further discuss the 17 amendments recommended by an 11-member committee, with eight committee members selected by council members and three by the mayor.
The committee wants to make a final recommendation to the full council shortly, Ray said.
Council members have expressed concern about a number of the proposals — disagreeing with some, saying others should wait until an efficiency study of the city's operations is done, and that some can be approved by ordinance or a mayoral executive order.
If anything is to get on the Nov. 6 ballot, the city must submit it to the Mahoning County Board of Elections no later than Aug. 8.