Brown touts program for veterans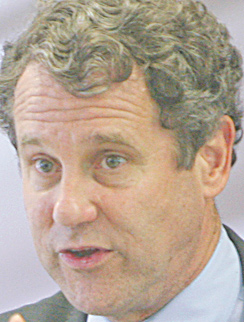 Photo
YOUNGSTOWN
Army veteran Pedro Colon Jr. says his acceptance into a new federal program to train unemployed military veterans for high-demand jobs is life changing.
Colon, 52, of Youngstown, is one of the first in Mahoning County to be accepted for the Veterans Retraining Assistance Program, a part of the VOW to Hire Heroes Act.
He begins training Sept. 4 at the Mahoning County Career and Technical Center in Canfield to become a medical assistant and expects to graduate a year later.
Colon, a 1978 graduate of Ursuline High School who was an Army medical laboratory specialist from 1980-84, has done what U.S. Sen. Sherrod Brown and officials of the Mahoning County Veterans Service Commission want other jobless veterans to do — apply for the program.
Brown had a press conference Monday at the service commission's office at Oakhill Renaissance Place to promote the program and encourage eligible Mahoning Valley veterans to apply.
The retraining program focuses on older veterans between 35 and 60 who are not eligible for any other Department of Veterans Affairs education benefit program.
"Service members who risk their lives protecting our nation should not have to wonder whether they'll be able to find a job when they leave the service. Unfortunately, many do, and that's not right," Brown said.
The Veterans Retraining Assistance Program will help ensure that thousands of veterans can get retrained for new positions in high-demand jobs. And, with the first wave of enrollment closing Sept. 30, it is critical that eligible Ohio veterans apply as quickly as possible, Brown said.
The program is limited to 45,000 participants nationwide from July 1 through Sept. 30 and to 54,000 participants nationwide in a second wave from Oct. 1 through March 31, 2014. Participants may receive up to 12 months of assistance equal to the monthly full-time payment rate under the Montgomery G.I. Bill-Active Duty program, which is $1,473 per month.
Colon said he also has a six-month Pell Grant of $5,550 and will work part-time to supplement his income. He said he is a mechanic and was a truck driver for 15 years and has his commercial driver's license.
Colon said he could not get hired as a medical assistant when he left the Army because civilian employers would not accept his four years of military training and experience and wanted him to start over; so he turned to truck driving.
He said when his father, Pedro Colon Arroyo died in 2009, he went into an emotional tail-spin and became an alcoholic. He joined Alcoholics Anonymous and goes to addiction classes at the Youngstown VA Outpatient Clinic. He said he has been sober for nine months.
Colon said his strength is serving people and staying calm under pressure.
"I'd like very much to work in a trauma center. I was a good Army medic, and I want very much to do that again," he said.
He said the VRAP program is life-changing for him and he wants other vets to have the same chance by at least applying for the benefit.
Barry Landgraver, executive director of the county Veterans Service Commission at 345 Oakhill Ave., Suite 100 in the Renaissance Building, is knowledgeable in the application process and urged veterans to call for help at 330-740-2451.
In a related matter, Brown, a member of the Senate Veterans Committee, recently announced a U.S. Department of Transportation Federal Transit Administration grant of $50,000 to the Western Reserve Transit Authority to improve access to transportation options for county veterans.
The grant, awarded through the DOT's Fiscal Year 2012 Veterans Transportation and Community Living Initiative, will help veterans, active service members, and military families learn about locally available transportation services.
The WRTA will use the funds to implement an outreach and education plan to work with county veteran service organizations, the VA Outpatient Clinic, Youngstown State University's Office of Veterans Affairs and other partners to promote a One-Call/One-Click Center for veterans seeking to use public transportation.
Mahoning County is home to nearly 20,000 veterans and military families, Brown said.