Pelini on FBS playoff: 'It doesn't work'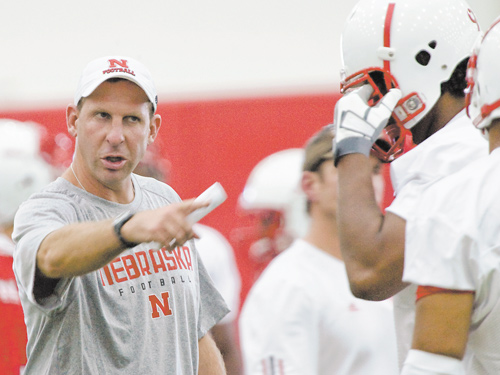 Photo
Nebraska head coach Bo Pelini, left, has 16 starters returning from last year's 9-4 team and is excited about his team's prospects this season. He's not as thrilled about college football's new four-team playoff.
By Joe Scalzo
YOUNGSTOWN
Over the last few months, as college football's leadership was debating the merits of a four-team playoff versus an eight-team playoff, adding a plus-one or keeping the current setup, Nebraska coach Bo Pelini was one of the few voting for "none of the above."
"It doesn't work," he said of the four-team setup eventually adopted. "It doesn't work with two teams, so how's it going to work with four? Somebody explain that to me.
"It's not something I'm really fond of. I'll leave it at that, I guess."
Pelini, a Cardinal Mooney High graduate, was in town Sunday for the Ron Stoops Sr. and Anthony Pelini Memorial Foundation bocce social at the MVR. He'll serve as a guest instructor at Cardinal Mooney's "Camp of Champions" today and Tuesday.
"This is home for me," Pelini said. "Mooney played a big part in my life and it's great to come back and see friends and also give back and hopefully do some good."
Pelini, who was hired at Nebraska in December of 2007, has three former Cardinals on his roster: running back Braylon Heard, wide receiver Tim Marlowe and offensive lineman Mark Pelini. Mooney graduate Tim Beck is the team's offensive coordinator. (Bo's brother, Carl, left the Cornhuskers after the season to become head coach at Florida Atlantic.)
Pelini picked up verbal commitments from two other Cardinals this spring: LB Courtney Love (who chose the Cornhuskers over Ohio State) and S Marcus McWilson, from the Class of 2013. When asked what he sees in Valley players, Pelini said, "Tough. Brought up the right way. Approach the game the right way. Have the right attitude.
"We like getting kids out of here. We recruit this area hard."
Nebraska went 9-4 last season, losing three of its last five, including a 30-13 loss to South Carolina in the Capital One Bowl. But the Cornhuskers return 16 starters, including QB Taylor Martinez (2,000 yards passing, 875 yards rushing) and RB Rex Burkhead (1,357 yards rushing, 15 TDs).
"We have a lot of talent coming back on defense," Pelini said. "I think we have a chance to be a good football team."
Florida State defensive coordinator Mark Stoops feels the same way. The Seminoles also went 9-4 last season but won seven of their last eight and have 18 starters returning.
"We're excited," said Stoops, who is entering his third year with the program. "It'll be a good year and I'd like to think we'll have a strong team."
What does he think of the four-team playoff?
"Ah, I don't really have many thoughts on that," Stoops said. "I think it'll be good. I don't really put too much thought into it.
"I just go play who they tell me to play and leave everything up to the decision-makers."
Former Mooney standout Kyle McCarthy, a safety with the Kansas City Chiefs, likes the playoff, particularly if it involves Notre Dame.
"I think it's great for the game," said McCarthy, who led the Irish in tackles his last two seasons. "Now there's not going to be a team left out. And if there is, you don't have much to argue because you should have been in the top four. If you're the fifth team, I don't feel bad for you.
"I hope to see Notre Dame as one of those four teams very soon."
After going undrafted in 2010, McCarthy spent the last two seasons splitting time between the Denver Broncos' practice squad and the active roster, appearing in 12 games. He signed with the Chiefs in the offseason.
"I'm really excited about the opportunity to play there," McCarthy said. "They have a great history and a great fan base."
McCarthy has a small break between OTAs (organized team activities) and training camp and said he's looking forward to getting back on the field.
"I just love playing the game," he said. "Training camp is always a tough part of the year because it takes a toll on your body but I'm excited to get out there and compete with my new teammates.
"I just want to help this team out any way I can. I think we have a lot of talent and I'm excited about what the season holds."