History ripped to shreds
Tweet
Published: Mon, July 9, 2012 @ 12:00 a.m.
Truck devours 800 pounds of Mahoning court papers in 1 visit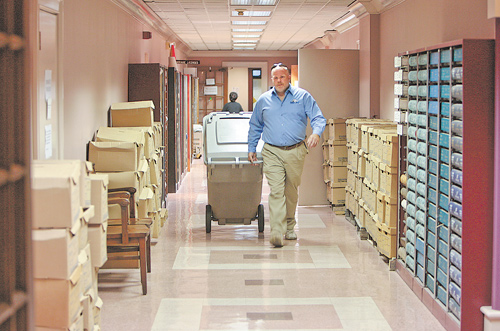 Photo
Scott Bates removes a container of documents from the Mahoning County Courthouse in downtown Youngstown. He is en route to a truck equipped to shred the documents outside the building. Protect-'N-Shred, a paper shredding company based in Cortland, can destroy 2,000 to 2,500 pounds of documents in one hour, its president says.
YOUNGSTOWN
A small AND family-owned Cortland document-shredding company is helping Mahoning County solve its perennial problem of insufficient space for storage of paper court documents.
After documents filed in old court cases are transferred to microfilm, Protect- 'N-Shred destroys them by shredding them instantly in a truck parked outside the county courthouse under a $160-a-ton competitively-bid contract.
The company then bales the shredded paper in its office and sells it to Wisconsin paper mills, which recycle the shreddings, primarily into toilet and facial tissue and paper towels.
"Microfilm is a permanent record, so as long as it has been microfilmed, it can be destroyed," Kathi McNabb Welsh, chief deputy clerk of courts, said of a document in an old case.
"We don't throw away any paper unless it's been microfilmed. There's always a permanent record," Welsh said.
"In many cases now, they are microfilming and [computer] imaging at the same time," she said of the microfilm department workers, who develop microfilm in their courthouse basement offices.
"Once they've been microfilmed, there's no reason to keep that paper," Tony Vivo, clerk of courts, said of court documents.
Having been used commercially since the 1920s, microfilm has proved itself as a reliable and accessible, time-tested, compact record- storage medium, Vivo said.
"There is a great debate" in court circles, as to whether the much newer technology of computer-imaged documents constitutes a permanent record, Welsh said.
"We don't know what these documents are going to look like in 100 years," when future generations examine the computer images, Vivo said.
The document-accumulation problem and shortage of storage space at the century-old courthouse is obvious, even to the casual observer.
Even for cases filed in recent years, paper court documents occupy file cabinets on the second floor of the courthouse rotunda outside the court clerk's office.
Elevated several inches on wooden pallets to protect them from flooding during occasional torrential rains, paper court documents also occupy stacks of cardboard bankers' boxes along the basement hallway leading to the microfilm department. Aside from their obvious space-management advantages, microfilm and computer imaging allow much faster and more convenient access to documents than having deputy clerks retrieve paper case files, sometimes from storage areas in the adjacent county administration building or at Oakhill Renaissance Place, Welsh said.
The clerk's office keeps paper divorce files for 18 years, civil complaints for five to seven years and criminal-case files for three to five years after they are filed, Vivo said.
The county's document retention and shredding policies follow state guidelines, including those set by the Ohio Supreme Court, Welsh said.
The county keeps a backup microfilm copy of all microfilmed documents and a backup copy of computer image files at undisclosed locations away from the courthouse, Welsh said.
Protect-N-Shred, which has five employees, uses a logo similar to that of the Lakeview Bulldogs, to emphasize that it zealously guards documents en route to the shredder, including those that must be kept confidential.
It wheels unneeded paper documents in fully enclosed, lockable plastic containers from the microfilm department to curbside, where the containers are hoisted by the truck's external lift and dumped into a hopper inside the truck to be shredded immediately at the site.
"Because it's done on-site, it can be done quickly, securely and efficiently," said Bill Burnham, president of the company whose truck recently has been visiting the courthouse weekly.
With a voracious appetite for paper, the truck can shred between 2,000 and 2,500 pounds an hour and store up to five tons of shredded paper before it has to be emptied.
The 24-foot-long, 131/2-foot-high box truck weighs 33,000 pounds, fully loaded. New shredder trucks typically cost about $200,000, fully equipped, Burnham said.
The company has more than 1,000 customers within a 75-mile radius of its Cortland office, including agencies of the Trumbull, Mahoning and Columbiana county governments, municipal and township governments, police departments, school boards, law and accounting firms and medical and dental offices.
"They're good because they come when they're supposed to, and they shred it right here," Lucy DeMart, Mahoning County microfilm supervisor, said of the 800 pounds of paper her four-person department typically sends to the company's truck each time it visits.