Boardman aims for two additional no-raise contracts for its workers
Tweet
Published: Mon, July 9, 2012 @ 12:05 a.m.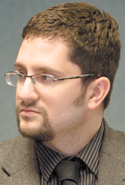 Photo
BOARDMAN
With the ink barely dry on one contract, the township now is negotiating with two other employee unions.
Township Administrator Jason Loree said the township is negotiating with the The Ohio Patrolmen's Benevolent Association rank union, which represents 13 ranking officers, and has just begun talks with the American Federation of State, County and Municipal Employees Local 2498, which represents about 10 support staff in fiscal, administrative and police departments.
The police patrol and rank unions' contracts expired Dec. 31, 2011; the AFSCME contract will expire Dec. 31, 2012.
The township's OPBA patrol union that represents 37 patrol officers voted to accept a new three-year contract that calls for a wage and step freeze throughout the contract, said Loree.
Mike Longo, head of the patrol union, said the officers agreed to contract terms largely so that the township can fulfill promises it made during the police-levy campaign, which received voter approval in August 2011.
"We want them to come in, those 10 new officers and the dispatchers. We just want [the administration] to use the levy for what was promised. We want to honor that commitment," Longo said. That five-year levy is expected to generate about $3.8 million annually with the township receiving its first collections from it this April.
The township already has hired three officers since the levy was approved. A new civil service test was administered this spring, and trustees have planned to hire four more officers from the new list before the end of summer, according to Vindicator files.
Loree said the patrol contract included a $750 signing bonus and calls for increased shares of hospitalization costs and the officers picking up 40 percent of any increase in health-care.
The step-wage scale remains the same as the last contract with patrol officers moving up 14 steps, from $33,280 annual salary to $61,110, over 22 years, Loree said.
The exception to the step increase is the hiring of a new officer, he added. An entry level salary is $33,280 annually; After year one, it bumps up to $35,780 and then $37,780 after two years.
The Boardman 2016 plan did account for the step-scale increases for new officers, Loree said.
"Everyone else is locked in," he said.
With this contract, the township has secured six years of zero wage and step increases for unions representing police patrol, road and fire employees, Loree said. The AFSCME union has just completed its sixth year.