Notareschis mark 50th anniversary with family event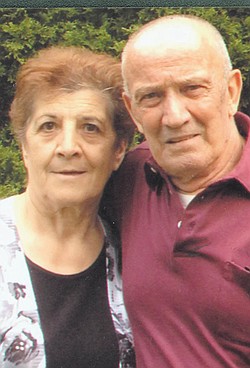 Photo
Mr. and Mrs. Mike Notareschi
POLAND
Mike and Maria Notareschi of Poland celebrated the 50th anniversary of their wedding with a family dinner June 24 at Nicolinni's Ristorante in Boardman.
The couple's sons, Reno (Renee) Notareschi of Poland and Michael A. Notareschi of Canfield, hosted the celebration. The anniversary couple also have a granddaughter, Dina Notareschi.
Mrs. Notareschi, the former Maria Giannetti, is a homemaker.
Her husband worked for Consumers Ohio Water Co. of Struthers before retiring in 1998.
The Notareschis were married June 24, 1962, in Villa Sant'Angelo, Italy.
The couple are members of Our Lady of Mount Carmel Church in Youngstown.