Published: Fri, July 6, 2012 @ 12:10 a.m.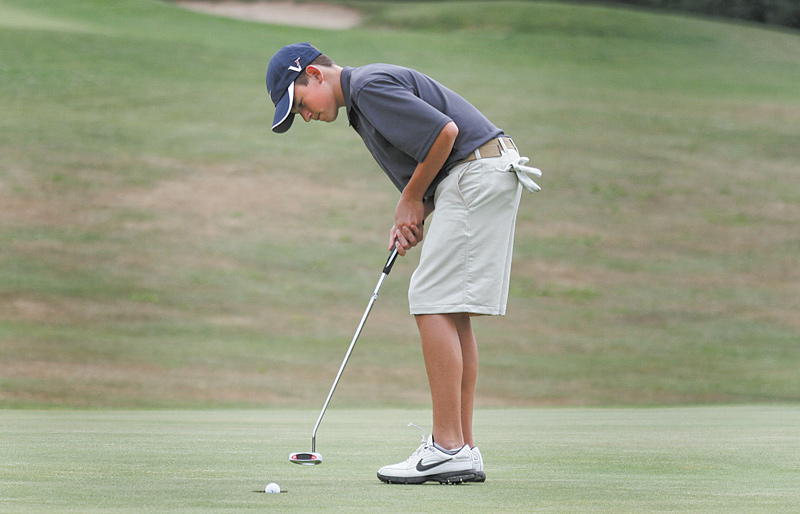 Photo
Cory Stefanec, 17, of Cardinal Mooney High School, sinks a putt on the 18th hole at Diamond Back Golf Course in Canfield, during the boys' qualifier Thursday for The Greatest Junior Golfer of the Valley golf tournament. Four more golfers advanced to the finals, which will be July 21 at Trumbull Country Club.
Four more golfers earn date at Trumbull Country Club
By Ryan buck
Canfield
The rumbles of thunder and cracks of lightning from midweek thunderstorms gave way on Thursday to the chiming pings of tee shots and green-denting thuds of approaches.
More than 40 boys participated Thursday as The Vindicator's Greatest Golfer of the Valley juniors competition presented by Farmers National Bank took over Diamond Back Golf Course for the fifth of six qualifying events.
The impressive field waited out a half-hour rain delay before setting out to determine four more qualifiers for the tournament final that will be played on July 21 at Trumbull Country Club in Warren.
"In all of these tournaments are the best golfers from around the area; even in Ohio we have some of the best golfers here," said Payton Snyder, a student at Western Reserve High School. "So it's definitely really tough competition. Everyone wants to get to that final point at Trumbull."
Playing on his family's course, Snyder capitalized on the familiar surroundings to net the lowest score in the 15-17 year-old group and punch a ticket to the final round.
Snyder, who fired an 80, cherished his childhood at Diamondback and credits his time spent at the family business for much of his success.
"Growing up on a golf course is great because you have all the availability to golf, hit balls, whatever you need.
"Knowing the course definitely gave me an edge because some of the kids out here had never played it before."
New Castle's Ryan Dugan matched Snyder with an 80 of his own to grab the other qualifying entry in this age group. Cardinal Mooney's Cory Stefanec was one shot off the leaders with an 81.
Snyder intends for his performance in the tournament to justify the benefits of his upbringing.
"The down point of that is I think, me as a golfer, growing up with a family who owns a golf course puts a lot of pressure on me to perform well in tournaments because everybody knows you live on a golf course."
Dugan, who missed qualifying by one stroke at both the Mohawk Trails and Tam O'Shanter events, had never played Diamondback before and found better luck across the Ohio border.
"Just play safe," he said of his strategy. "They had the [course and shot tips] on the scorecard to help you out and that was very helpful.
"It helped me for what's called 'The Gauntlet,' the hard holes 14, 15, 16, 17, 18. It helped me a lot because I would've hit driver on those holes, but hit three wood on all those and they went straight. I birdied one of them."
In the 12-14 age group, Canfield's Andrew Letscher's 86 was enough to advance to the finals. Right behind him was Tavish Burd, of Warren, who took home a 91.
Boardman's Brian Terlesky, who previously qualified at The Salem Golf Club round, carded the lowest round of the day with a 75.
The sixth and final qualifying event of The Vindicator's Greatest Golfer of the Valley will be at Tamer Win Golf and Country Club. Girls will compete on July 13 and boys on July 16.
Tournament information is available at vindy.com/ golf and on Twitter @VindyGreatest. Interested participants from The Vindicator's coverage area may call Tamer Win at 330-637-2881 to register.