Sandwich shop manufactures sense of camaraderie, family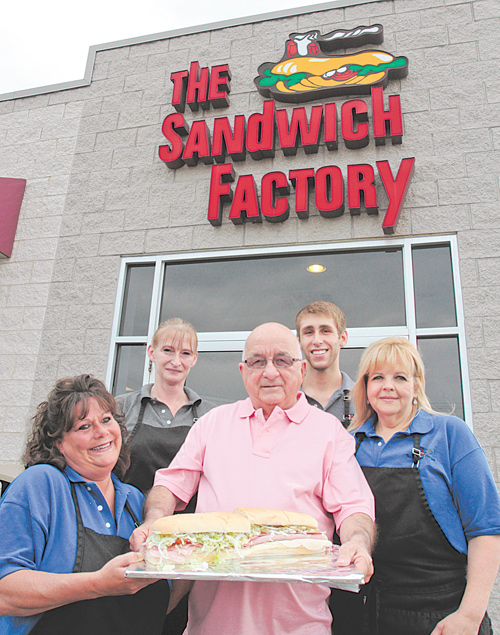 Photo
From left, longtime workers Sonya Shar and Monique Stilson, along with sandwich Factory owner Joe Loree and employees Bryan Emborsky and Sue Eckert, show off one of the restaurant's big subs.
AUSTINTOWN
For some of his employees, Austintown Sandwich Factory owner Joe Loree has been around since they were teenagers.
He's even seen their children grow older. Loree, and the Sandwich Factory, also have been a mainstay in Austintown since 1972, when a week before Labor Day, Loree opened his first restaurant at the corner of Mahoning Avenue and Canfield-Niles Road.
This year, the Sandwich Factory will see its 40-year anniversary come to pass. Loree has no regrets, and for a select group of employees, who have worked with him for more than 20 years, the relationships they've built in the workplace have created a sort of second family.
"He's like my dad," said Sue Eckert, who started at the Sandwich Factory 38 years ago. "He's papa to my kids. He's the best guy to work for."
Like Eckert, Loree, who will turn 80 in December, views the business as a family affair. His granddaughter and her husband run a Sandwich Factory in Poland. Then, in Boardman, there is another location, run by his three sons.
"This community has been very good to me," Loree said, as he sat with Eckert in a small office just off the kitchen at the Austintown location. "Hopefully, my sons will keep the business alive after I'm gone."
Loree, who hails from the West Side of Youngstown, explained how he fell into the business out of necessity. He said he grew tired of working on the railroads, and after a friend talked him in to starting his own restaurant, he opened a pizza shop in Alliance.
"In the meantime, I had a wife who was paralyzed in a car accident and three boys," Loree said. "I had to get closer to home."
Though his commute was not all that far, Loree's family came first, and when property became available in Austintown, he jumped on it. The Austintown Sandwich Factory was born.
On Tuesday, its popularity was evident as cars began to flood the parking lot and a steady stream of customers began pouring through the doors to order larger-than-average sandwiches with fresh-cut deli meats on slabs of fresh bread the size of a regular loaf.
Loree's employees had been busy prepping the kitchen since earlier in the morning.
"He's the best guy in the world to work for," said Sonya Shar, who has worked at the restaurant for more than 28 years. "Joe is generous, too, and not to mention forgiving."
Here, Shar had to stop and laugh, as she recalled a flub in which she accidentally froze some of her boss's prized bologna.
"He was gonna kill me, and he said he was going to fire me, but he didn't mean it," Shar said. "That's the thing about Joe, you won't find anyone better."
Shar also said that in the past, Loree has taken her and other employees to Florida for vacation. This year, on Presidents Day, they all went to Las Vegas.
Nowadays, Loree isn't nearly as involved in the business as he used to be. But he still comes in occasionally to check on his employees and store operations, which are now overseen by Eckert.
For years, Loree said he has not only been employing the local college and high school students in the area, but he's learned how to manage a work force at the same time.
"I've had a lot of patience with kids 16 or 17 years old over the years," he said. "But they've all been a good bunch of kids, who have gone on to better things."
Loree tried unsuccessfully to launch a series of franchise locations, but he said outside interests from other states and legalities forced him to put an end to all that. He has no plans for expansion, and he said the three locations run by his family are satisfactory.
Ironically, his employees have one qualm with Loree.
"He doesn't come around enough anymore," Shar said.