Station Square's chef offers all-round organic experience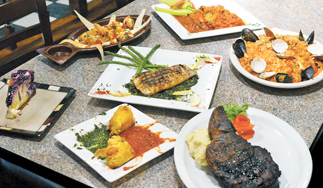 ---
by: Ross Morrone
When You Go...
Station Square
4250 Belmont Avenue Youngstown, OH
Phone: 330-759-0039
Online: www.thestationsquare.com
Executive chef/owner: Ottavio Musumeci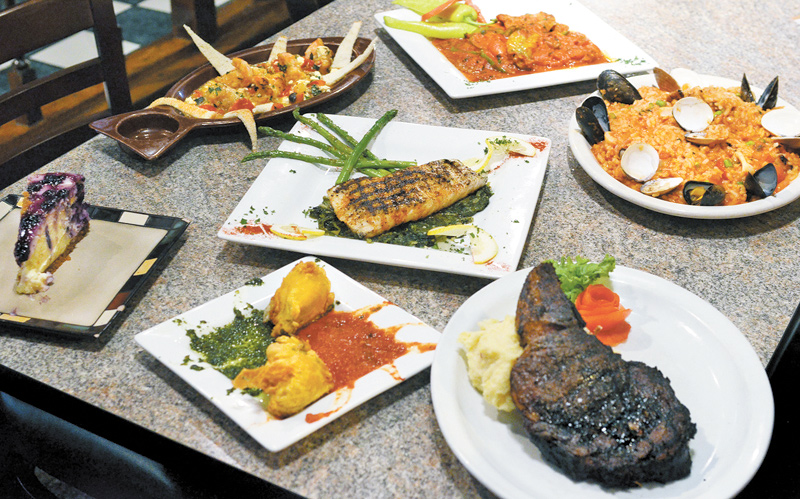 Photo
Station Square's menu offers up a passionate helping of hearty flavor with organic ingredients. Clockwise, from top left, are Greek Shrimp, Pan Fried Veal sautéed with tomatoes and hot peppers, Risotto Mare e Monti, Charred Ribeye, Zucchini Blossoms and Homemade Blueberry Pie. At center, Blackened Alaskan Halibut over Italian Greens.
YOUNGSTOWN
As I continue my sig- nature-dish journey through the Valley, I think that what I enjoy the most, besides the enormous amount of food I get to devour, is the short time I get to spend with each chef. I get to learn a little bit about their background and what makes them passionate about food. By the end of the meal I am able to actually taste how this passion plays into what their Sig dish is.
This week I went to Station Square, off Belmont Ave., to have a tasting of executive chef and owner Ottavio Musumeci's sig dishes.
What you will notice immediately from Ottavio is his love for fresh organic ingredients. He prides his menu on using local all natural beef from Manna Farms located in Farmdale, Ohio. It's the use of these products that is not only healthy for you and your family, but it also has the best flavor meat can offer.
This sit-down started out much like my last adventure, with a table full of food. Ottavio couldn't limit his signature dish to just one item so he broke it down into categories. It started with zucchini blossoms ($4.50) pulled from his home garden that morning and stuffed with three types of cheeses and then deep-fried. The zucchini flower is something I grew up eating from my grandmothers' kitchen and is only in season as the plant matures. This alone made this trip worth it.
Next was Greek Shrimp ($9), which takes the classic Greek ingredients of feta and olives and simmers them down in a chardonnay reduction with tomatoes and breaded shrimp. These strong salty ingredients are calmed by the chardonnay reduction, bringing out the rich flavors they all encapsulate that are then sweetened by cherry tomatoes.
The entres he prepared gave me an inside look at the difference that fresh in-season ingredients make. First up was Blackened Alaskan Halibut over Italian Greens. Halibut is a highly underrated fish, in my opinion. Its flavor is rich and texture a bit stronger than that of cod. The char on this fish made it seem as if it sat in a smoker all day but remained tender and juicy.
This was followed up with another seafood entre with more Italian flavors in the Risotto Mare e Monti ($21). Risotto alone needs some friends to add flavor, and Ottavio combined loads of seafood, tomatoes and asparagus and simmered it down with more chardonnay. As risotto sits it absorbs more liquid, and by the end of this dish the flavor of the risotto alone had a bit of each ingredient in it.
Last of the entres was a 16-ounce Charred Ribeye ($20). Somewhere in this madness of food was a Pan Fried Veal ($18) sauted with tomatoes and hot peppers. The cutlets were tender and full of heat from the wax peppers. When it comes to beef I like it medium rare with little seasoning. This steak was cooked perfectly and then hit with that char grill flavor. It was here that the organic farm fresh beef flavor comes through with each bite. Well-marbled and soft texture proves the difference a few extra dollars will make when buying organic beef.
This tasting shows a lot of things about Station Square. The palate of Chef Ottavio and the care and passion he has for providing the freshest ingredients for his customers comes through in every bite. If you want a great taste of Italian and the difference organic makes, head up Belmont for this delicious Italian menu. Don't forget to try the Homemade Blueberry Pie.
Ross Morrone is on the lookout for the biggest, hottest and tastiest dishes in the Valley. Email him at rossmorrone@gmail.com and follow him on twitter @foodthirty.