Truck-stop chain plans 100 liquefied natural-gas stations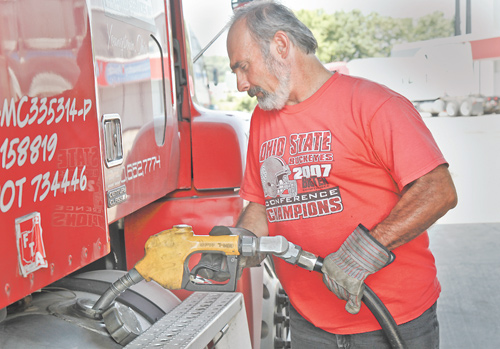 ---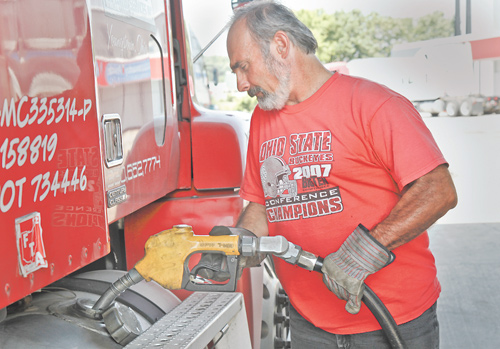 Photo
Paul Speero of Boardman fills up his truck with diesel fuel priced at $3.49 at the Travel Center of America at Interstate 80 and state Route 46 in Austintown.
YOUNGSTOWN
TravelCenters of America LLC, which operates full- service truck stops and travel plazas in 41 states, plans to construct 100 liquefied natural-gas filling stations across the country.
Going forward, the Westlake-based company anticipates a rise in demand for the fuel among the long-haul trucking industry.
Currently, Ohio has only one LNG filling station, opened in February in Seville, west of Akron.
That station was funded in part by a grant from Clean Fuels Ohio, a statewide nonprofit organization. It opened with fanfare because trucks outfitted with LNG fuel tanks have few options for refueling due to a lack of filling stations both inside and outside Ohio.
"No locations have been identified yet," said Tom Liutkus, a spokesman with TravelCenters of America, which operates a plaza at Interstate 80 and state Route 46 in Austintown.
"On our end, we're just now beginning to look at where these sorts of stations would make the most sense. "
In 2011, there were 117,000 natural gas vehicles in the U.S. Only 3,100 of those were LNG vehicles, according to the U.S. Department of Energy.
Liutkus said LNG is a better option for long-haul trucks because the fuel is super-compressed and energy-dense, meaning their fuel tanks can store more of it and fill with it faster.
However, LNG trucks cost about $70,000 more than diesel trucks because they require a specially insulated tank that stores the gas at minus-260 degrees, in addition to other costly fuel-system components.
The station in Seville was opened primarily to accommodate the major contract freight carrier, Dillon Transportation of Illinois, which has a large fleet of the LNG trucks.
Liutkus said TravelCenters of America has reached a letter of understanding with Shell, which will distribute the LNG to the planned service centers once they are completed. He predicts a number of the stations will openas early as 2013.
Shell is expanding in the global LNG arena, with plans to develop a number of small-scale Liquefaction plants, where the gas is refined and cooled. Regionally, these plants will operate in parts of both Canada and the U.S., according to Destin Singleton, a spokeswoman for Shell, who said locations in the U.S. have yet to be determined.
Diesel trucks can be modified to fit LNG fuel systems, but resale in foreign markets can often be difficult if the trucks have been modified. Nonetheless, Liutkus said that more and more trucking companies are looking into LNG options, if only for their fuel efficiency.
According to The U.S. Energy Information Administration, an extension of the DOE, last week's U.S. national average for diesel fuel was $3.44 per gallon, at the same time it showed LNG at $2.88 in its diesel-gallon equivalent.
Liutkus added that TravelCenters' move to install 100 LNG stations is just as much about anticipating demand as it is about staying ahead of the curve.
"Natural gas and its potential is well documented, and there's a lot of excitement around alternative fuels," Liutkus said. "It may cost less, but there are other benefits - environmental benefits - and a way for us to be energy-independent. That's what's been getting folks excited about where it can take this country."
Nearly 87 percent of U.S. natural gas is domestically produced, according to DOE. It produces 60 to 90 percent less smog-producing pollutants, compared with conventional fuels like gasoline.
"Shell sees a future where fleet owners have LNG available throughout the Americas," said James Burns, Shell's general manager of LNG for Transport Americas. "This agreement with TravelCenters of America is another step in the journey to make LNG the future fuel."
Liutkus would not provide an estimate for construction costs TA will undertake in building the filling stations, but he said as more details of the plan emerge soon, shareholders will be informed.
Petro Stopping Centers, another TravelCenters' brand, is also slated to receive a number of the LNG stations.
The letter of understanding with Shell also will allow TravelCenters to explore compressed natural gas, which fuels a small line of car models.