Hot, dry days worry firefighters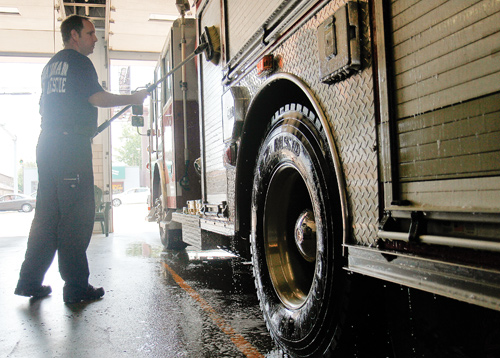 ---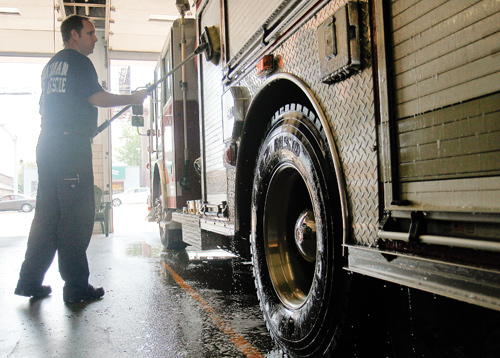 Photo
Firefighter Scot Murray of Boardman washes a firetruck at the Boardman Fire Department. The firefighters are taking extra care to prepare for the busy holiday weekend. Firefighters say the region's dry conditions and use of fireworks can bring disastrous results.
By ELISE FRANCO efranco@vindy.com YOUNGSTOWN
HOT, DRY WEATHER HAS Mahoning Valley fire chiefs urging residents — now more than ever — to abide by state fireworks laws this Fourth of July.
Nonlicensed individuals may purchase consumer fireworks, such as firecrackers, bottle rockets and roman candles in Ohio but are prohibited from shooting them off in the state.
Andrew Frost III, Austintown assistant fire chief, said even the slight chance of scattered showers predicted this week won't wet the ground enough because of the heat factor.
"If we don't get some rain we're very concerned about hot embers igniting some grass fires," he said. "We need it to be a good soaking, long, sustained rain. A couple short blasts won't do any good."
Frost said consumers should be smart about the types of products they light up during the Independence Day celebrations. Sparklers or anything that's been lighted should be doused with water to ensure the fuse is out.
Ken Nussle, Warren fire chief, said though fires generally increase around the 4th, it's not usually anything major. The unseasonably dry weather could change that, however.
"We get a lot of gutter and mulch fires," he said. "We expect to see more grass fires, and obviously with a drier fuel it will spread more rapidly. If there's wind, even more so."
While some July Fourth celebrations took place over the weekend, many events are scheduled over the next few days.
Fireworks displays begin at dusk Tuesday at Waterworth Memorial Park in Salem; 10 p.m. Tuesday at Freedom Place and Liberty Assembly of God in Liberty; 9:15 p.m. Wednesday at W.D. Packard Music Hall in Warren; immediately following the Wednesday evening Mahoning Valley Scrappers game; 10 p.m. Wednesday East Palestine City Park; and 10 p.m. Wednesday at downtown wharf over the Ohio River in East Liverpool.
Pastor Rob Morris, of Freedom Place and Liberty Assembly of God, said the church planned Tuesday's display as a way to celebrate the holiday and bring the township together.
"We're in Liberty Township, so what better place is there to celebrate our liberty and freedom," he said. "This will be the first of what we plan to become an annual event."
Pastor Morris said to ensure the safety of those in attendance the church hired professional shooters and took other precautions such as cutting the grass short.
"It would be a terrible gift if we gave the community a fire," he said. "We're going to do everything we can to make it a fun, family-friendly event."
He said his church's fireworks show is expected to draw about 1,000 people. "I think that the atmosphere here will be celebratory and fun, and people will have a great view."
Michael Durkin, Liberty fire chief, said his department will have extra staff stationed around the township and at the church's display, as well as several professional events throughout the holiday week.