Family event honors O'Learys for anniversary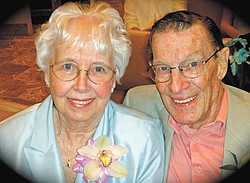 Photo
Mr. and Mrs. Bill O'Leary
cortland
Bill and Kay O'Leary of Cortland marked their 65th wedding anniversary during a family celebration at the home of a granddaughter and her husband, Shannon and John Aslanis.
The O'Learys were married June 7, 1947, at St. Mary Church in New Castle, Pa.
They have six children: Maureen (John) Marginian, Kathy (Fidel) Salazar, Tim (Gail) O'Leary, Colleen (Jerry) Williams, Terry O'Leary and Shaun O'Leary. Completing the family are eight grandchildren and 10 great-grandchildren.
O'Leary owned The Pub Bar and Restaurant in Mahoningtown, Pa., for many years. Mrs. O'Leary was employed by Troutmann's Department Store in New Castle.
In 1978 they moved to California, where they worked as apartment managers for 10 years. They moved to Las Vegas in 1988, and O'Leary was employed in security at Las Vegas McCarran Airport until his retirement in 1992. Mrs. O'Leary worked for Hallmark in Las Vegas.
The O'Learys returned to Ohio in 2009.
O'Leary is a World War II veteran who served in China with the Flying Tigers of the 14th Air Force from 1942-45.