Bertilaccis mark golden event with trips, new vows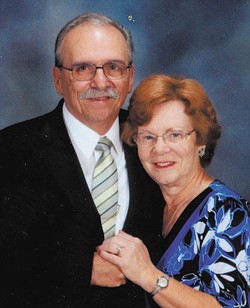 Photo
Mr. and Mrs. Michael Bertilacci
AUSTINTOWN
Michael and Donna Bertilacci of Austintown celebrated the 50th anniversary of their wedding, which was June 23, with the renewal of their vows and various trips.
The couple renewed their vows June 24 at St. Columba Cathedral. They went on a cruise and trips to Florida and Las Vegas for the weddings of two grandchildren, and re-created their honeymoon trip to Niagara Falls, Ontario.
The Bertilaccis have four children: Sherri Petro of San Diego; Rebecca Pagan of Riverview, Fla.; Tina Kaschak of Westerville, Ohio; and Constance Pierce of Austintown.
They have 10 grandchildren and one great-granddaughter.
The couple, active members of Immaculate Heart of Mary Church, were married there June 23, 1962.
Mrs. Bertilacci, the former Donna Snyder, is a homemaker. Mr. Bertilacci retired in 2004 as Austintown road superintendent.