YSU police chief retires today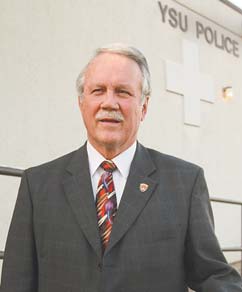 Photo
Youngstown State University Police Chief Jack Gocala retires today after 20 years at the helm of the campus department and more than 40 years in law enforcement.
By Denise Dick
Youngstown
At the end of his shift today, Youngstown State University Police Chief Jack Gocala will turn in his radio and his keys.
"I'll have to turn in my car," he said. "It's going to break my heart."
After 21 years at the helm of the university police force, Gocala, 63, is retiring.
As he's done daily since becoming chief, he'll probably still call in Wednesday morning to check on what happened overnight.
His replacement has not been chosen yet, but a search committee is narrowing the list of applicants to three finalists.
Though he mulled the retirement idea for awhile, he opted to leave his position after today to spend time with his family, which includes his wife, two adult children and four grandchildren.
Gocala, who has bachelor's and master's degrees in criminal justice/law enforcement administration from YSU, began his law-enforcement career in 1971 with city police. His first assignment was on the vice unit under then-Sgt. Randall Wellington (now sheriff). He started as a part-time officer at YSU in 1974.
The city job focused on prostitution and liquor control and led to investigations of organized crime numbers operations in a joint effort with the FBI.
He worked in that unit for more than seven years before he was transferred to a patrol car when the mayoral administration changed.
He was promoted to sergeant in 1980 and to lieutenant in 1988.
Gocala retired from the city police department after 20 years to become YSU chief.
"I wanted to be a chief, and this opportunity presented itself," he said.
Residency rules at the time prohibited him from serving as city chief because he lives in Poland.
Former YSU President Neil Humphrey appointed him chief, and he's worked for four YSU presidents during his tenure.
Cynthia E. Anderson, president since July 2010, said it was a pleasure to work with Gocala.
"Jack's heart and soul was focused on the safety of our students, faculty and staff and all visitors to our campus," she said in an email. "He took his job very personally and made people feel safe."
He was totally dependable, and the administration heard from students that they felt safe on campus, Anderson said.
"The relationship that exists at YSU between the university police and the administration, faculty, staff and students is a unique relationship," she said. "Not every university can boast of such a positive relationship. Jack was on the job 24/7 — that is so true. He kept me informed of campus issues — no matter what time of day or night (literally). He will definitely be missed. YSU is a better university, and a safer campus because of him. We were all very fortunate to have had the privilege of working with him. I have great respect for Jack, and am grateful for all he did for this university."
Gocala plans to continue to teach at the Steubenville branch of Eastern Gateway Community College and as an instructor at area police academies.
During his time as chief, the department, which includes 23 full-time officers, four dispatchers, a payroll clerk and an administrative assistant as well as 140 part-time officers from other police agencies, moved from a carriage house near Coffelt Hall to its quarters in Clingan-Waddell Hall.
He also developed mutual-aid agreements with the city police department and the Mahoning and Trumbull county sheriff's departments.
Before that, the jurisdiction of university police ended at the campus boundaries.
More and improved technology became part of the department's day-to-day operations including video-surveillance cameras on campus, and Gocala instituted an objective promotion process for the department.
Besides his family, Gocala will spend time working with his hobby, classic cars. He'll still work security at Cardinal Mooney High School and help out at his church, St. Matthias Church.
But he'll miss coming to work on campus every day.
"It's going to be different," the chief said.