Taking Disability In Stride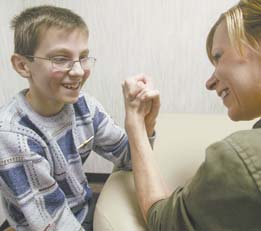 Photo
Kolya arm-wrestles with Beth White, Youngstown Orthopaedic Associates director of marketing, during a visit there. White heard about his story, and the practice is donating physical-therapy sessions.
By LINDA M. LINONIS
BOARDMAN
Nicholai "Kolya" Deykin probably has faced more challenges in his 12 years than many people will in a lifetime. Kolya was born without legs below the knees, and the lower part of his right arm is missing. He lives at Renewal Orphanage in Dimitrov, Russia, where all the children have physical disabilities.
The course of his life changed when he met the Rev. Kathryn Adams, director of Protestant Campus Ministries at Youngstown State University and the To Russia with Love volunteer-in-mission team, a nonprofit organization and extension of PCM.
The orphanage director approached the Rev. Mrs. Adams about helping Kolya, just as the mission team had previously assisted another youth. That was Vlad Makarov, who journeyed from the orphanage to the Mahoning Valley in 2008 and was fitted for prosthetics. He had lost the lower part of both legs in a train accident. Makarov, now 21, has since transitioned from the orphanage to his own apartment, graduated from college, recently got married and now is a member of the Russian Paralympic Curling Team. Mrs. Adams met Kolya and Makarov in 2006.
Mrs. Adams, who recently returned from her 19th mission trip to the Renewal Orphanage, arranged for Kolya to come to the United States in the fall of 2010 to be fitted for prosthetic legs. Both Kolya and Makarov were fitted for prosthetics by Craig Svader, a certified prosthetist with Advanced Anatomical Design with offices in Canfield and Girard. Svader donated his time, expertise and materials for Kolya's prosthetics, which cost some $20,000. A concert and donations raised $5,000 for the effort.
Kolya arrived Jan. 19 and will return to Russia on Feb. 16. He is in the Valley for an adjustment to his prosthetics and therapy; Makarov also will return for an adjustment, but when is not certain.
Kolya recently visited Youngstown Orthopaedic Associates, Tippecanoe Road, where he works with Ron Santiago, physical therapist. Santiago said the visit was to evaluate how Kolya was walking along with his muscles and flexibility. Through an interpreter, Nelya Stefanides, Kolya said he was having trouble climbing steps. Santiago had Kolya climb steps to gauge the situation and noticed the boy wasn't lifting his legs high enough to make climbing go smoothly.
To help Kolya tackle the stairs more easily, Santiago scheduled a few therapy sessions. Santiago said it is important for Kolya to maintain good muscle tone in his hips because that helps him keep his balance and walk.
Youngstown Orthopaedic Associates is providing the therapy without charge. Jim DeCenso, practice administrator, said YOA believes being "part of the community extends to being part of the global community" when it comes to helping. DeCenso said YOA has the resources to provide assistance and wanted to be part of "this positive project."
"He's one determined little boy," Santiago said of the young patient. When Kolya was here in 2010, Santiago made a video of him. He's showed it to other clients to help motivate and inspire them, and it has had a positive effect. "It's rewarding to see him progress," Santiago said.
Kolya has a quick smile that he readily shares. Mrs. Adams said he made a lot of friends on his previous trip and is visiting with them. Mrs. Adams speaks some Russian but most communication is through Stefanides, who is from Uzbekistan, Russia. A friend and neighbor of Mrs. Adams, Stefanides said her help is "out of my heart." That sentiment seems to be shared by all involved.