Published: Sat, January 28, 2012 @ 12:05 a.m.
By Karl Henkel
NEW SPRINGFIELD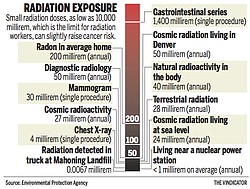 Photo
Source: Environmental Protection Agency - Radiation Exposure
Those who oppose natural-gas and oil exploration claim the fracking process propagates unsafe levels of radiation through drill cuttings and wastewater.
A local incident, however, recently demonstrated the precise — and extremely low — levels of radioactive material present in drill cuttings.
Two trucks filled with solid waste attempted to enter Mahoning Landfill Inc. in September and set off the facility's radioactive sensors.
The waste's origin — Northstar Disposal Services, a subsidiary of Youngstown-based D&L Energy — indicated the material likely was cuttings from drilling an injection well.
The amount — and type — of radiation in this instance, however, was not harmful, said two representatives from the Ohio Department of Health's Bureau of Radiation Protection.
The two trucks with the material — the only two drill cutting-related radioactive material reports of 40 documented in 2011 — contained 6.7 and 5.4 microrem. There are 1 million microrem in one rem, meaning that the material in the two trucks had a combined radiation level of 0.00000121 rem.
According to the Centers for Disease Control & Prevention, a microrem is a unit of measurement used to determine a person's biological risk to radiation.
To compare, the average chest X-ray emits 4,000 microrem, according to the Environmental Protection Agency, which is 600 times the radiation found in the drill cuttings.
Steve Helmer, program administrator at ODOH's Bureau of Radiation Protection, said Mahoning Landfill could have accepted the drill cuttings, a result of drilling, which comes before the fracking process.
"The idea of drill cuttings being a risk from a radiologic standpoint, we're just not seeing that," Helmer said.
NOT ALL THE SAME
The drilling industry often comes under fire, particularly from "fractivists" such as state Rep. Robert F. Hagan of Youngstown, D-60th, who want to slow down or halt drilling in Ohio because of potential health risks such as radioactive material.
Radioactive material, under Ohio law, consists of many sources, including naturally occurring radioactive material or NORM, and also technologically enhanced naturally occurring radioactive material, or TENORM. These are different than man-made radioactive waste.
NORM is found everywhere — in the air, in soil and particularly in thick, underground rock formations.
It is from those formations that NORM originates in drill cuttings and consists of uranium, radium and thorium.
Fracking or flowback water pulls radium out of the ground, said David Lipp, health-physics supervisor at ODOH's Bureau of Radiation Protection. Lipp said the radium levels then become higher than typical levels found in water.
According to the U.S. EPA, about 30 percent of domestic gas and oil wells produce some level of TENORM but differ from state to state.
The radioactive level of TENORM, and NORM, for that matter, can differ based on geologic formation, among other factors. Lipp said ODOH is looking into the variances of radioactivity in NORM and TENORM based on location in Ohio.
REGULATIONS
NORM can and should be disposed of in landfills, said Lipp, who added that low levels found in the drill cuttings is not a public-health concern.
"It's like being afraid of getting hit by a truck and then having a Hot Wheels/¢ car hit your foot," he said.
Companies such as Mahoning Landfill, as a business decision, may reject material that sets off a radioactive sensor, Helmer said.
D&L said it hired a company to transport the returned drill cuttings elsewhere and did not know the end location of the material.
Helmer said the same material likely would have cleared sensors at other landfills.
NORM and TENORM both fall under the tangled web of Ohio's environmental regulatory authority.
The Ohio Department of Natural Resources regulates fluid from natural-gas and oil drilling; the Ohio Department of Natural Resources regulates landfills; and the Ohio Department of Health regulates radioactive material.
The federal EPA says there have been no cases in the country in which radioactive materials in sewage systems have been a threat to public health and safety.