Phantoms' captain rights the ship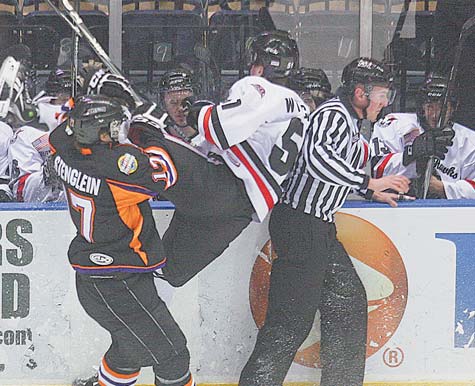 Photo
J.T. Stenglein of the Youngstown Phantoms (17) knocks the Waterloo Black Hawks' Eddie Wittchow (51) into the boards during a USHL game Thursday at the Covelli Centre. The game was tied 3-3 in the third period when Mike Ambrosia scored the winning goal to Youngstown the 4-3 victory.
YOUNGSTOWN
There's a reason why Mike Ambrosia is the captain of the Youngstown Phantoms.
A game like Thursday's 4-3 win over the Waterloo Black Hawks is a prime example.
Ambrosia scored two goals in the third period to give Youngstown (20-12-2) its first win at the Covelli Centre since a 7-3 victory over Muskegon on Jan. 6.
"He's been like that all year," left winger Alex Dahl said. "He's been the guy to get us going, while finishing games for us."
Just 23 seconds ticked away in the third when Ambrosia scored first, breaking a 2-2 tie. An assist was credited to Sam Anas and Ryan Lowney.
"It was a great play and a great set up by Sam to Lowney and he made a great back door pass finding me," Ambrosia said. "The goalie kind of slid a little bit and I got it in there."
The second goal, his 11th of the season, came from an Austin Cangelosi pass. Cangelosi skated along the boards near the penalty boxes and found Ambrosia streaking towards the net. The Chatham, N.J., native and Princeton-commit then flipped a backhanded shot past goaltender Jay Williams.
"Simply put, he leads by example," Phantoms coach Anthony Noreen said. "We needed him there."
Ambrosia's heroics may not have happened, or even had a chance to happen, with the way things were going in the first period. The Phantoms trailed 2-0 midway through the first.
Tony Cameranesi scored first with a shot from 15 feet out. Youngstown's Chris Bradley and Ryan Belonger tried to block the attempt, instead they blocked each other. The puck deflected off one of their sticks during the collision before trickling past goaltender Matt O'Connor. Waterloo scored again when Tyler Zepeda poked one past O'Connor six minutes after its first goal.
"It would have been very easy to let them run away with it right there," Noreen said. "We desperately needed a spark."
It came from Dahl.
The Phantoms' first-round pick in the USHL Entry Draft scored his second goal of the season after he eluded a Black Hawk defender on a spin move with four minutes, five seconds left in the first.
"In terms of what other people think of me, there might be a little more pressure being a first-round pick," Dahl said. "It was nice to get that goal to maybe get some weight off and get the ball rolling in the game."
At the 19:26 mark in the second period, Cangelosi knotted it up at two with his 15th goal of the season. He broke free off an Ambrosia pass and sprinted right at Williams before lifting a backhanded shot past his right side.
"Everyone was going tonight," Ambrosia said. "It was a full team effort and we went from there to get back on track."
Ambrosia nearly had a hat trick with three shots that fell short late in the third.
"Mikey's the kind of kid where if we win the game, it doesn't matter if he scores four goals or none at all," Noreen said.
More like this from vindy.com