Penn State pauses to say farewell to Paterno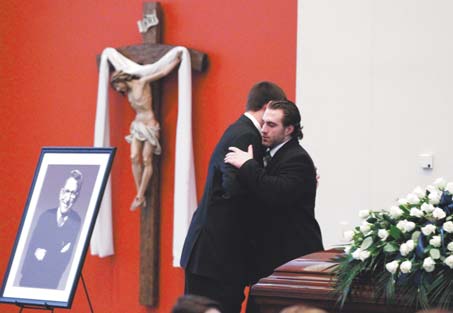 ---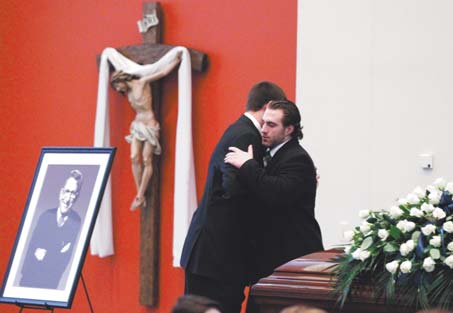 Photo
Michael Zordich, right, a former Cardinal Mooney standout, embraces fellow Penn State football player Kevin Blanchard as he replaces Blanchard as an honor guard in the Pasquerilla Spiritual Center on the Penn State campus for the viewing of former Penn State coach Joe Paterno on Tuesday in State College, Pa. Paterno died Sunday morning.
Associated Press
STATE COLLEGE, Pa.
They stood outside for hours on a winter afternoon, waiting to pay their respects to the late Joe Paterno. The line snaked down a long block on the Penn State campus.
Inside a campus spiritual center, the coach's body lay in a closed, hardwood casket topped by a spray of white roses. About six feet away sat a stylized black-and-white picture of the man who became lovingly known on campus as "JoePa," smiling and peering out through his trademark thick-rimmed glasses.
Three days of public mourning began Tuesday for a Penn State community already racked by months of turmoil. The 85-year-old Paterno — a Hall of Fame coach and the face of the university — died Sunday of lung cancer. He had been ousted just days before learning of his diagnosis in November, forced out of his job in the wake of child sex-abuse charges against a former assistant.
"We're not going to focus on the bad, we're going to pull together and focus on the good," said Brittany Yingling, 23, of Altoona, donning a blue Penn State knit cap with "Paterno" in bold white letters emblazoned on the front. "He's going to leave a lasting legacy on so many people."
And thousands showed up, lining a main campus artery for a chance to make the walk, single file, past Paterno's casket, which had an "honor guard" of two Penn State players — one past and one present. Some mourners stopped for a moment of reflection, or to genuflect in the interfaith hall.
Others fought back tears and sniffles. The only other sounds were the clicks from media photographers, taking occasional pictures.
Paterno won 409 games and two national championships over his a 46-year career admired by peers as much for its longevity as its success. Paterno also took as much pride in the program's graduation rates, often at or close to the top of the Big Ten.
"I came to pay my respects to a great man, that has nothing to do with victories," said Paterno's longtime assistant and defensive coordinator, Tom Bradley. "A lot of his victories people don't even know about."
Large windows bathed the white-walled hall at the Pasquerilla Spiritual Center in light on a cloudy day. Some of Paterno's family attend services at the center.
Members of the public were preceded by the family, including two of Paterno's sons. Scott Paterno and Jay Paterno — the former Nittany Lions quarterback coach — spent some time shaking hands and thanking well-wishers before they exited the building.
Also paying respects privately Tuesday morning were former and current players and coaches. Members of the current team wore dark suits and arrived in three blue Penn State buses, the same ones that once carried Paterno and the team to games at Beaver Stadium on fall Saturdays.
Earlier Tuesday, former Penn State and Pittsburgh Steelers great Franco Harris, a vocal critic of the university trustees, also came to say goodbye. Others included NFL receivers Deon Butler and Jordan Norwood, Norwood's father and Baylor assistant coach Brian Norwood and former quarterback Daryll Clark (Ursuline) — who also served as an honor guard.