3 state agencies seek to sink brine-treatment plant in Warren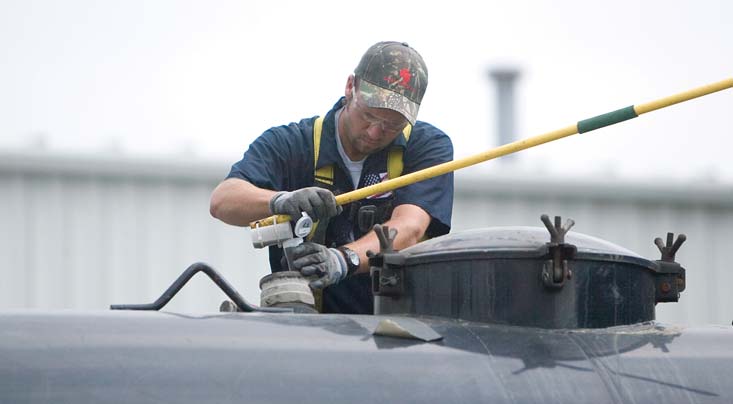 ---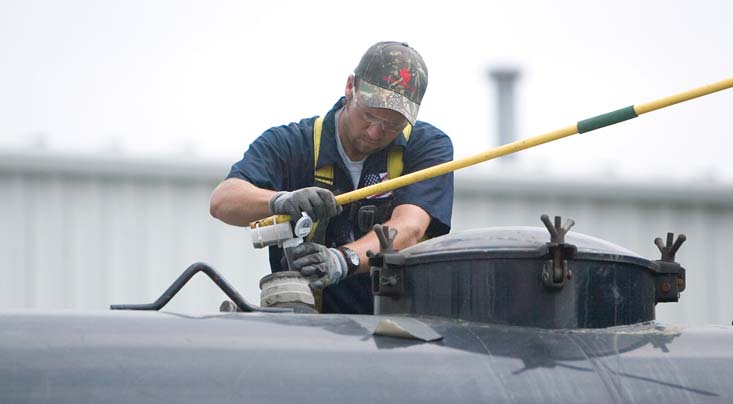 Photo
Patriot Water Treatment LLC, the state's lone brine-wastewater treatment plant in Warren, continues to stave off a potential closing by state environmental regulators. Joe Allen, above, is one of 25 employees at the facility, which currently is running at one-sixth of its capacity.
By Karl Henkel
khenkel@vindy.com
WARREN
Andrew Blocksom hasn't played chess since he was a kid.
But for the past four years, the president of Patriot Water Treatment LLC in Warren has endured the longest chess match imaginable.
"I've never played something with this duration and this high stakes," Blocksom said.
He's had not one, but three opponents — the Ohio Environmental Protection Agency, Department of Natural Resources and the Governor's Office — that since May have tried to shutter his 8-month-old business.
They are the same entities, however, that granted Blocksom and the city of Warren permission to operate the state's first brine-wastewater treatment plant.
Patriot and Warren then undertook a 11⁄2-year permitting process that included an eight-week environmental study. After permits were issued, Patriot invested $3 million in infrastructure and hired 25 employees.
But almost immediately after Patriot opened, state regulators insinuated that Patriot runs an "illegally permitted operation" and have taken multiple, but to date, unsuccessful legal steps to shut it down.
There are more hurdles for Patriot to clear and an OEPA-proposed Jan. 31 permit expiration date for Warren, which works in conjunction with Patriot. But Blocksom believes ultimately there'll be a favorable outcome.
Tom Angelo, city water pollution control director, also thinks Patriot will be victorious once the state exhausts its remaining moves.
"If Patriot is an illegal operation," he said, "why have they allowed it to operate for eight months?"
The state, despite granting Patriot permits, has continuously referenced an Ohio law stating that brine is any liquid produced from natural gas and oil exploration.
Brine, under Ohio law, can be disposed of by injection well, on roads as dust and ice control, and any method approved by the ODNR chief.
However, those in the brine industry say there is a fundamental difference between brine and another fluid — "flowback water."
Brine is salty — sometimes 10 times saltier than seawater — and high in total dissolved solids, or TDS.
TDS is like mixing a teaspoon of salt into a cup of water; the salt will dissolve.
Flowback water is much less salty — sometimes as salty as seawater — but higher in total suspended solids, or TSS.
TSS is like mixing a teaspoon of sand into a cup of water; the sand will not dissolve. 
Patriot's seeks to take flowback water, press out the TSS, filter and dilute the water, and then send it to Warren's wastewater treatment plant.
The state finds no distinction between the two fluids. An ODNR representative reiterated Tuesday the legal definition of brine.
Injection-well owners say that high volumes of flowback water can clog injection wells if not correctly filtered, and the low weight of the flowback water causes well owners to inject fluids at exceedingly high pressures.
Tom Stewart, executive vice president of the Ohio Oil and Gas Association, said he believes there will be a time when a facility such as Patriot can properly treat brine, but does not believe that technology currently exists.
DOOMED FROM THE START
How has Patriot been allowed to operate if it violates state law as OEPA now claims?
It's because OEPA and ODNR approved and permitted Patriot's operations.
In an email on April 27, 2009, OEPA and ODNR, which should regulate all brine disposal methods, agreed that OEPA had brine jurisdiction.
Brian Hall, OEPA assistant chief, said in an email that Scott Kell, at the time the deputy chief of ODNR's Division of Mineral Resources Management, "clearly stated that taking brine to a [publicly owned treatment works/centralized water treatment center] is clearly under Ohio EPA jurisdiction and it would leave it up to [OEPA] to determine if a treatment system could meet [water quality standards]."
The email also said that Donna Kniss, OEPA environmental specialist, talked with ODNR geologist and injection well expert Tom Tomastik, who stated that if OEPA approved Patriot's method, "it was acceptable for brine to be sent there for disposal."
OEPA granted the permits, but just a short time later, began to re-evaluate.
Pennsylvania banned brine disposal at wastewater treatment plants like Warren's because its plants treated all types of brine and discharged that treated liquid directly into rivers and streams without going through a pretreatment process.
LEGAL RECOURSE
The state has since tried many legal avenues to revoke or to not renew a brine-disposal permit for Warren.
On Nov. 1, 2011, Ohio Attorney General Mike De-
Wine issued a determination that Patriot had illegally received its permit from former OEPA Director Chris Korleski.
DeWine's office then asked the Ohio Environmental Review Appeals Commission, an entity that hears and resolves appeals of state |environmental matters, to revoke Patriot and Warren's permits.
ERAC overruled DeWine and on Dec. 1, affirmed the legality of all Patriot and Warren permits and said that only current OEPA director Scott Nally can revoke permits.
Nally then turned to another legal avenue in the attempt to shut down Patriot.
OEPA in December submitted a draft water-quality permit renewal to Warren, proposing a maximum TDS dispersion limit of 622 milligrams per liter, one-third the state standard of 1,500. OEPA says that standard allows water in the Mahoning River to meet the 500 milligrams per liter standards for Pennsylvania waterways.
Under Ohio law, a water-related permit can be revoked or not renewed if water does not meet quality standards of a nearby state.
Angelo says that's a loaded number because Pennsylvania exempted any authorized business before Aug. 21, 2010, as well as the mining industry.
Under Pennsylvania's rules, both Patriot and Warren would be exempt.
Angelo said the restriction will hinder Mahoning Valley's business climate; many businesses disperse levels of TDS, including General Motors Lordstown and RG Steel.
Nally and OEPA, pending an ERAC hearing, declined to comment for this story.
ALL ABOUT THE MONEY?
In money terms, Patriot has cost the state — specifically ODNR — about $100,000.
Patriot does not pay ODNR's brine-tax, which is levied on injection wells at a cost of 20 cents per barrel for out-of-state brine and 5 cents per barrel for in-state brine.
ODNR made $1 million off the brine tax during the first nine months of 2011.
But the state isn't in it for the money — at least publicly.
The maximum tax per injection well is $100,000. Patriot offered to pay $100,000 per work shift annually — for a total of $300,000 because there would be three work shifts.
The state, Blocksom said, declined the offer.
ODNR again pointed to the Ohio Revised Code for brine disposal.
END IN SIGHT
In the next two months, Patriot and Warren will participate in an adjudication process and hearing regarding OEPA's attempts to impose restrictive water-quality limits on Warren, an ERAC case on similar topics, a mandamus action to require OEPA to turn over public records and a declaratory judgment action in Trumbull County on the initial permitting.
"The city of Warren's permit and OEPA's attempt to shut my business down will not go into effect because leading Mahoning Valley industries, Warren and my company requested the hearing," Blocksom said.
Patriot and Warren expect all three cases to end in their favor.
Angelo said the situation is no longer about Patriot, but about justice and opportunity.
"I'm not going to allow some state agency to decide where business is welcome in Ohio," he said.