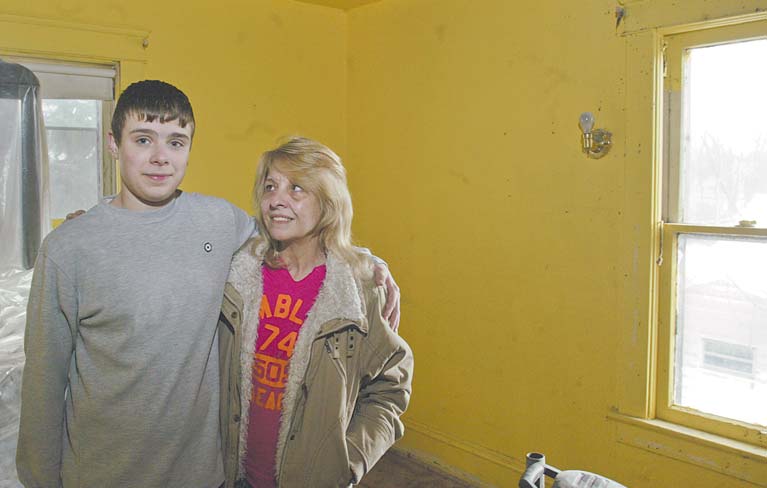 Photo
Brandon Sullivan, 15, stands in the bedroom of his home at 157 Logan Ave. SE in Warren with his grandmother, Deborah Nicholl. Earlier this month, Brandon awoke and discovered a fire in the attic where his grandmother was sleeping. He woke her and alerted other family members who got out safely.
By Ed Runyan
WARREN
Firefighters say Jan. 5 very nearly turned into a tragic day for a family living on Logan Avenue Southeast.
Deborah Nicholl, the owner of the home, was asleep in the attic bedroom of the two-story residence, when a wire running down from the peak of the attic to the floor started a fire that burned most of the way through a truss.
The fire had most likely smoldered for hours inside of the storage area along the wall that had been filled with blown insulation.
Fortunately, at a little after 6 a.m., her sleeping 15-year-old grandson, Brandon Sullivan, heard a cracking noise in his bedroom below and started to smell smoke.
It woke Brandon up. A sophomore at Harding High School, Brandon still had more than an hour before he normally got up for school.
"I stood up and put my hand up on the wall, and the ceiling was hot," Brandon said recently. There was also a burn spot forming in that area of the ceiling.
Brandon used his cellphone to call the house phone, which his grandmother answered. He asked her if everything was all right.
"She said, 'It's really smoky up here,'" Brandon said.
"I thought it was my electric heater until I got up and saw the smoke," Nicholl said. "I really didn't believe you could sleep through so much smoke, but I did."
Brandon went up the narrow attic stairwell.
"When I went up, I couldn't see her because it was so smoky," Brandon said. It was equally difficult for Nicholl to find her way out of the room because of the smoke. She held onto Brandon, and he led her out and down the stairs.
Once safely out of the attic, they alerted Brandon's mother, Stephanie Nicholl, and everyone got out, including Brandon's 2-year-old brother, Michael Sullivan.
Nicholl said the smoke didn't affect her lungs, but it got into her throat and caused her to lose her voice for three days.
Brandon had a sore throat for about a week.
Firefighters say an electrical wire, which was attached to the truss, apparently caused the fire. It's not uncommon for this to happen with older wiring, said Bill Monrean, a captain with the Warren Fire Department who was part of the team that responded.
A water can was all firefighters needed to extinguish the fire, and damage to the house was listed at $2,000, though the smoke resulted in much more damage to carpeting, clothing and personal effects in the attic and second floor.
"His action to check on something and not let it rest could have saved his family," Monrean said.
The family has been staying in a motel for the past two weeks while repairs are being made. The repairs are close to being done.
Nicholl said the incident didn't frighten her so much the day it happened as much as the next day, when she thought about how deadly the smoke could have been.
"I'm just glad to be alive," she said.
"We're lucky he woke up," agreed Brandon's mother.