East goes extra time again, but beats Liberty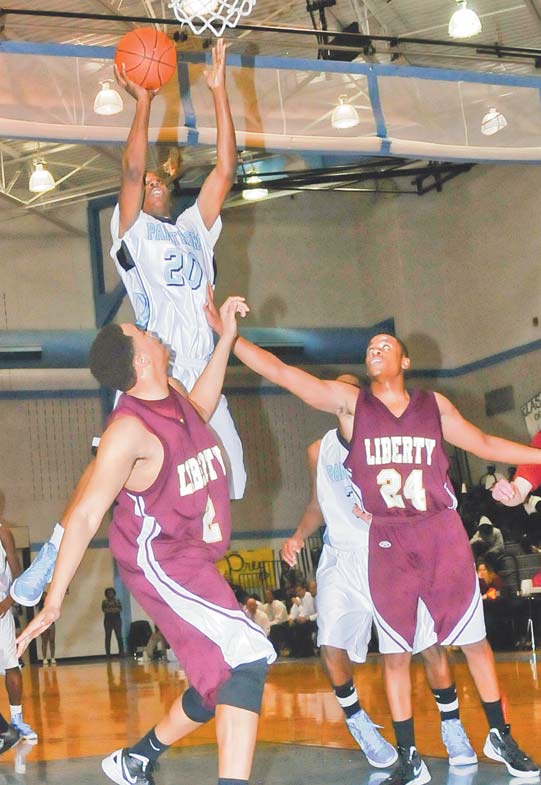 ---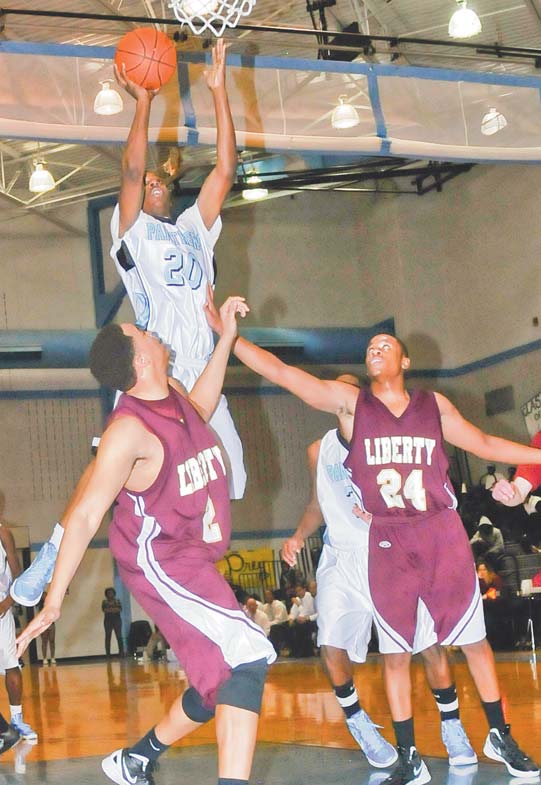 Photo
Youngstown East's Terrell McClain (20) puts up a shot over Liberty's David Hight (2) and Jamaal Daniel (24) during their game Tuesday at East High.
By Greg Gulas
YOUNGSTOWN
The East High Panthers don't seem to mind working overtime these days.
Their coach, Mark Cherol, isn't so sure his nerves can take many more extra sessions.
Deontay Scott scored five of 16 points after regulation and the Panthers outscored Liberty, 15-7 in the extra session for a 78-70 win on Tuesday.
"I don't know how much more drama I can take, but once you get into overtime you had better be ready because both teams know what needs to be done in order to win," said Cherol.
"We built a comfortable lead early, only to see Liberty start the second half with a 12-0 run to turn a four-point deficit into an eight-point advantage. To our credit though, we fought back to force overtime and then put it all together in the overtime period," Cherol said.
For East (7-4), it was their second consecutive overtime game, having stopped Mooney in double overtime on Friday.
"After a flat third period, everyone contributed when we needed them to; not only to force overtime but during the overtime session as well," Cherol said.
Scott scored eight of East's first 11 points in the game and the Panthers reeled off 12 of the final 16 points in the frame as they built a 19-9 lead heading to the second quarter of play.
Liberty's Jaylen Mann, who had a game-high 31 points and all four of his team's buckets from beyond the arc, combined with Jamaal Daniel to score 13 of the Leopards' 20 points in the period as they cut the East lead to 33-29 at the intermission.
"We just needed to keep playing hard; to keep fighting to the finish. I hate losing so this was a real test for us after halftime," Scott said.
Liberty (4-6) reeled off the first 12 points of the second half and behind Mann's 11 points in the period, outscored the cold-shooting Panthers by an 18-7 count to forge a 47-40 lead with one quarter remaining.
After a Mann slam dunk just 14 seconds into the final frame gave Liberty a 49-40 lead, the Panthers countered with a 17-4 run of their own to take a 57-53 advantage with 3:59 remaining in regulation.
East's Mike Hornbuckle and Jaylan Marrow scored eight points each in the final period for East, offsetting an eight-point quarter by Mann, but it was a Hornbuckle hoop with just 21 seconds remaining that knotted the game at 63-63 to force the overtime.
Taylor Johnson and Hornbuckle added four points each in overtime to help seal the Panthers' third consecutive victory.
"You gotta have heart and continue to believe. I just feel like that quick start in overtime really was the key," Johnson said.
"You saw two very physical, very athletic teams playing tonight," said Liberty coach Dan Bubon. "Turnovers are a part of the game and when you turn the ball over fast, anything can happen.
"As for Jaylen [Mann], I will take him over anyone on the area. He can play inside, outside, handle the ball and still finds a way to hit the open man. This is the most zone that we have played all year and they were able to adjust to it.
"Being in foul trouble just limited our options," he added.
East was 30-of-71 from the field.
Liberty committed 25 turnovers to East's 22 with the Panthers holding a 33-32 rebound advantage.
Scott and Jamir Humphrey each hauled in eight rebounds for the Panthers while Jamaal Daniel had nine for the Leopards.