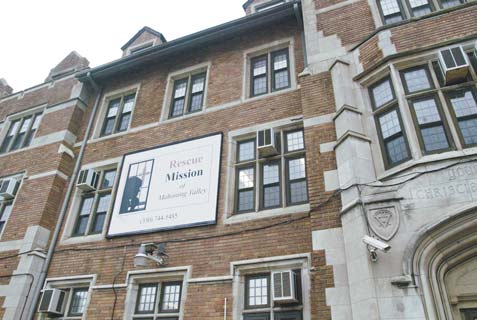 Photo
The Rescue Mission of the Mahoning Valley had an open house Monday at the facility, located at 962 Martin Luther King Jr. Drive, Youngstown.
YOUNGSTOWN
William and Carole Rummell of Mineral Ridge brought their grandsons to Monday's open house of the Rescue Mission of the Mahoning Valley to help them learn about the residential facility and found something they themselves didn't know.
"I was surprised the mission gets no public funding," said Rummell, retired superintendent of the Weathersfield Local School District.
Their grandsons, Will, Tait and Zane Rummell and Andrew Garris, all of Mineral Ridge, are members of the Confirmation Class at First Presbyterian Church of Mineral Ridge.
"I'm surprised at how many people are here," said Will; "and how many of them are children," said Andrew; and "how many meals are fed," said Tait. "A lot has to do with God. The residents learn things about the Bible," Zane said.
The Rummells illustrate the reason for the open house and tours, said Jim Echement, director of development.
Raelyn Kish, the Mission's ambassador, conducted tours of the residential facility at 962 Martin Luther King Jr. Drive, including the kitchen and dining areas where free meals are provided for breakfast, lunch and dinner every day of the year, sleeping areas, common areas and a learning center where men and women have access to extensive resources. The Rescue Mission's administrative offices and warehouse are at 2246 Glenwood Ave.
"The reason for the tours was to show donors and the rest of the community where their donations go, that the Rescue Mission is more than three hots [meals] and a cot [a place to sleep]," he said.
Though food, shelter, clothing and a safe place to stay are at the heart of the Rescue Mission, it offers much more to its clients.
When they come in, caseworkers assess why they are here and what services they need to transition out.
"We are a triage, directing clients to services we provide or to partner community agencies," Echement said.
"Because we are not publicly funded, we are not restricted by geography whom we can serve. Clients can be from Warren or Washington state," he said.
The Rescue Mission has a staff of 35 full-time employees and 20 full-time equivalent volunteers who provide about 40,000 volunteer hours a year.
Programs, for example, include recovery groups for drug and alcohol addicts and life-skills classes that teach how to be a mother and how to run a household, Echement said.
He said the makeup of the clients is changing.
This is the first year since the Rescue Mission began recording such information that it is consistently serving more women and children than men; and the daily census has increased.
"For the past 15 years, the number of overnight clients has averaged about 70. For the first quarter of Fiscal Year 2013 (Oct. 1, 2011-Sept. 30, 2012), the number of overnight clients averaged 83, and most of the increase was because of more women and children," Echement said.