Kasich awaits word on Lorraine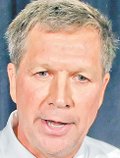 ---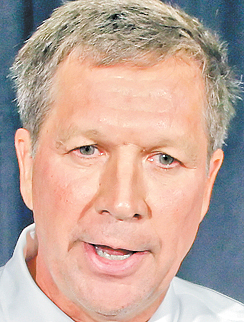 Photo
By Marc Kovac
COLUMBUS
Gov. John Kasich does not expect the execution of Charles Lorraine to take place this week, despite a planned appeal to the U.S. Supreme Court to lift a stay issued by a federal judge.
But, speaking to reporters Monday in Columbus, Kasich said he believes Ohio's execution procedures are constitutional.
"There's an appeal going to happen on that issue, equal protection," the governor said. "But that is in no way, shape or form designed to minimize the need to respect the judge's decision. So we'll have to work on it."
He added: "We're not going to have any execution scheduled this week. We're still talking about how we move forward on that."
Lorraine was scheduled to be put to death Wednesday at the Southern Ohio Correctional Facility in Lucasville for the 1986 knifing deaths of an elderly couple in their Warren home.
Kasich denied clemency in the case last week, but federal district court Judge Gregory Frost subsequently issued a stay on the execution after determining that state prison officials again failed to meet their own written lethal-injection protocols during the November execution of Reginald Brooks.
The Sixth Circuit Court of Appeals upheld the stay late last week, and Ohio Attorney General Mike DeWine plans to appeal the case to the U.S. Supreme Court.
Kasich said Monday that state officials will address Judge Frost's concerns.
"I believe there is equal protection, but I respect the judge and I've made it clear to my people that we need to deal with the judge," he said. "The problem is you can't go talking to him. ... You've got to go through a lot of legal channels to get that done."
The governor added, "I hope we can resolve this in a way in which we can have everybody satisfied with the procedures."