Texas co. wants to lease mineral rights at Poland cemetery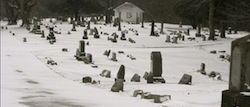 ---
RELATED: Brown:Kasich's decision on wells was right
By Ashley Luthern
aluthern@vindy.com
POLAND
Township trustees received two unsolicited proposals related to oil- and natural-gas drilling, including one for a cemetery, and are having the township's legal counsel review both.
John Phillip of Campbell Development LLC in Fort Worth, Texas, offered trustees a contract Wednesday to lease the mineral rights under 35 acres that make up the Lowellville Cemetery at 2700 Stewart Road.
Campbell Development, which opened a second location in Youngstown three months ago, works primarily with one drilling company that creates fracking wells. Phillip declined to name the drilling company.
Fracking is a process in which water, chemicals and sand are blasted into rocks thousands of feet below the ground to extract natural gas and oil.
The contract offers the township an upfront payment of $140,000 — or $4,000 per acre — and 16 percent of any royalties, which would be paid monthly, Phillip said.
Phillip said the contract is for the Utica Shale, thousands of feet underground, and includes the stipulation that there can be no surface drilling at the cemetery.
"We've leased under a cemetery before," Phillip told trustees when asked.
Township Administrator Jim Scharville questioned whether the township even had the mineral rights for plots already purchased.
"I thought you own the entire plot. I'm just curious because if I had a family plot and someone else was getting mineral rights, I would expect something," Scharville said, adding people are given deeds to the cemetery plots once they pay for them.
Trustee Chairman Mark Naples said the trustees don't know the laws of such a circumstance, which is why they approved a resolution asking township Atty. David Shepherd to review the contract.
"Supposedly they're not even planning on drilling. They want the acreage for their block," Naples said. "I don't particularly think that it's something we should do. It's a cemetery; it's your last resting place."
The Lowellville Cemetery was established in 1890 and serves as the township's current cemetery. Poland Center Cemetery, 6578 Struthers Road, is 1.5 acres and was used from the early 1700s to late 1890s.
The trustees were surprised by the offer to lease the Lowellville Cemetery.
"We just got hit with this," Naples said.
Leasing a cemetery is not unheard of. In September 2008, the Catholic Cemeteries Association in Western Pennsylvania signed a gas lease for 1,254 acres, including one 195-acre cemetery and a 200-acre cemetery in Pittsburgh, according to the Pittsburgh Post-Gazette.
Trustees also heard from Atty. Damian P. DeGenova, co-founder of Youngstown-based Sulmona Energy LLC, who addressed Poland Village Council a week ago.
He presented trustees with an agreement to let Sulmona Energy bargain on their behalf for leasing township-owned land. DeGenova said he would group township-owned property with other public and private land, ideally having a 10,000-acre package.