Mahoning commissioners buy 3 snow- and ice-control trucks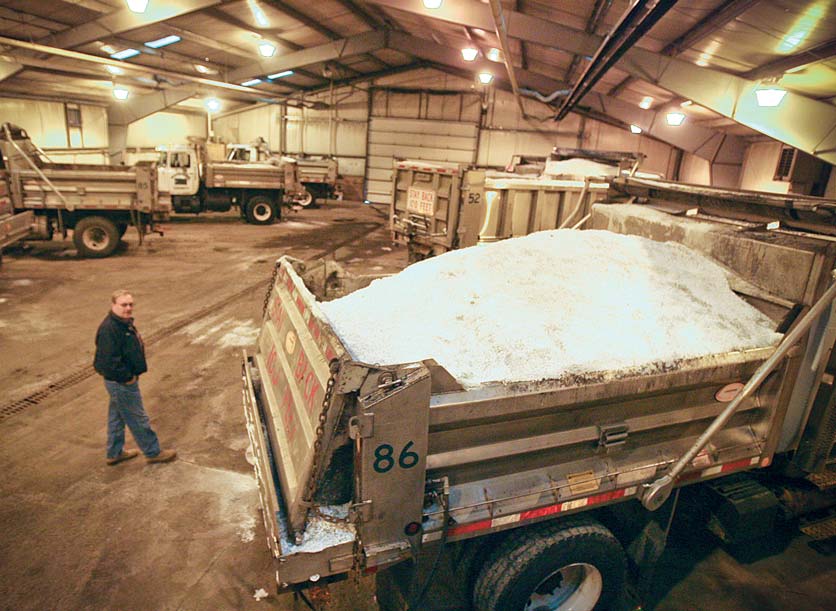 Photo
Gary Setz, highway maintenance supervisor with the Mahoning County engineer's office, inspects the salt-truck fleet Thursday as it stands ready in the garage to keep county roads safe for motorists as the predicted snow flies today.
By PETER H. MILLIKEN
milliken@vindy.com
YOUNGSTOWN
Mahoning County is getting ready for today's snow — and for storms in months and years to come.
County commissioners are buying three new, fully equipped snow- and ice-control trucks for the engineer's office at a total cost of $424,279.
They'll buy the trucks from Miami Valley International Trucks Inc. of Dayton for $245,106, and their dump bodies, with snow- and ice-control equipment, for $179,173 from Concord Road Equipment Manufacturing Inc. of Painesville.
The purchases are being made at a discount through the state purchasing cooperative using money the commissioners borrowed last year for this purpose.
The trucks will replace others in the engineer's aging 22-truck fleet, which are between 10 and 20 years old and average more than 100,000 miles on their odometers, said Marilyn Kenner, chief deputy county engineer.
The new trucks will be serviced by Cerni Motors of Austintown.
"We'd like to replace [trucks] every five years, but, obviously, we just don't have the funds to do that," Kenner said.
The commissioners took their action just prior to today's forecast arrival of another snowy blast of winter.
The National Weather Service forecast calls for 2 to 6 inches of snow today with west winds of 25 to 30 mph causing blowing and drifting of snow.
The generally mild winter until now has allowed the engineer's staff to perform more road patching and roadside ditch digging than usual, Kenner said.
Mild early winter conditions enabled the Western Reserve Road widening project to extend its construction season until Christmas, she added.
The mild weather also has allowed the engineer's office to achieve considerable savings in winter overtime, salt and slag, which Engineer Richard Marsico said will help fund road improvements later this year, if the mild trend resumes and continues.
As of Dec. 29, the engineer's office had spent only $6,086 on overtime, salt and slag in the final quarter of 2011, compared to $173,308 in the final quarter of 2010 as of that date. The engineer's office maintains 483 miles of county roads.
Concerning another matter, David Turner, vice president of the Youngstown Metropolitan Housing Authority board of commissioners, told the county commissioners the YMHA board soon will advertise for a replacement for its director, Clifford Scott, who left in July to head the Omaha, Neb., Housing Authority.
The housing authority board will conduct a nationwide search and expects to fill the position by the end of March, he said. "Our anticipation will be that we can find somebody locally," Turner said.