Four games highlight of holiday basketball at Covelli Centre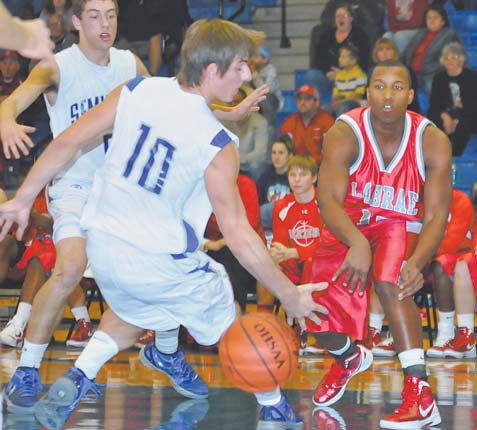 Photo
Carl Brown (15) and his teammates from LaBrae will be one among the four area boys basketball players who will be competing in the LaRiccia See Them Rise Classic on Monday at the Covelli Centre in Youngstown. Former Vindicator sports reporter John Kovach was a driving force behind the creation of the event, which has been rebranded from Covelli Centre Basketball Series and now centered around Martin Luther King Day.
By Rob Todor
YOUNGSTOWN
High school basketball returns to the Covelli Centre on Monday with the LaRiccia "See Them Rise" Classic.
Four boys games will feature Ohio teams against schools from Western Pennsylvania.
The event will also include two Parochial games to start off the day, and the presentation of the John Kovach Memorial Sportsmanship Award.
Kovach, a former Vindicator sports reporter, was the driving force behind the creation of the then-Covelli Centre Basketball Series.
The concept has been re-branded as the "See Them Rise Classic" and centered around Martin Luther King Day.
The event has grown thanks in large part to the generosity of Youngstown businessman Tony Lariccia, who provided the original financial contribution.
The first varsity game will tip off at 1 p.m., featuring Campbell Memorial (2-7) against George Jr. Republic (5-3).
That game will be followed by LaBrae (11-0) against Hickory (6-2), which will begin at 3 p.m.
The third game, at 5 p.m., will feature Struthers (8-2) against Erie Strong Vincent (6-4).
The final game, scheduled to begin at 7 p.m., will match Ursuline (6-3) against Sharon (4-2).
The last three games will be televised live on MyYTV, the first live broadcasts of the Game of The Week by My Valley Sports.
The day will also include dance and cheer exhibitions at halftime of the games, and a youth basketball competition between youngsters from the Poland and Struthers communities.
St. Christine School will host two games, starting at 11 a.m.