Boardman's last drive-in restaurant now part of our past
By Ashley Luthern
aluthern@vindy.com
BOARDMAN
Heather Milligan was among the nearly 300 people who crowded in and around the Boardman A&W restaurant Wednesday as everything in the eatery was auctioned.
A&W final Auction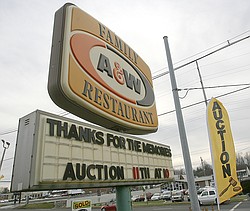 Video
It's been a long ride for the A&W restaurant on the corner of U.S. Route 224 and West Boulevard. Customers jammed the eatery last month before it closed for good Dec. 31. Today, the restaurant known for its all-American food and car cruises was auctioned off, piece by piece. It's a liquidation sale and as such, everything — root-beer mugs, decorative license plates and equipment — must go.
Milligan, 28, grew up nearby and frequently dined at A&W on the corner of U.S. Route 224 and West Boulevard.
"I would walk here," she said.
Four years ago, she met Andy Varsho at the restaurant known for its all-American food and car cruises. They began dating and continued to visit A&W until the restaurant closed Dec. 31.
"We came the day it closed. We even felt the earthquake here," said Varsho, 27, of Lisbon.
Later that night, he proposed. Milligan accepted.
"A&W has meant a lot to us. It was a big part of our relationship, and we'd like to get something with 'A&W' on it," Varsho said.
The couple wanted the A&W clock, and Varsho, who said he was no stranger to auctions, came prepared to bid.
As the price rose higher and higher, Varsho conceded to a man who purchased the clock for $800.
In addition to the clock, Michael Simon, 63, of Poland, purchased an A&W gum-ball machine in the shape of a gas pump for $2,300.
"I neglected to get something for my granddaughters during the holidays," said Simon, who said his son and granddaughters ate at A&W much more often than he did.
Of his competitor on the gum-ball bid, Simon said, "I feel bad. I know the guy."
The guy was Phillip Naples, 56, of North Lima, who wanted nothing more than to bring that gum-ball machine home.
"I'm here looking for memorabilia. I came here every Friday for cruising, since the early '70s," Naples said.
Naples said he wouldn't have pushed the price so high if he would have realized it was Simon but was confident he would leave with something.
Paul Basinger, owner of Basinger Auctions, called the auction with the flair of a circus ringleader, pausing only to pop a cough drop into his mouth.
He said the A&W auction generated the most hits online than any other auction his company has done. It was the memorabilia that brought so many people to the auction, he said.
Two specialized pieces, the fireplace hearth with surrounding counter and the neon blue "Shake, Rattle & Roll" sign, sold for $600 each.
"It's a little emotional. This is a piece of history," Basinger said.
A&W owner Rick Thompson said the auction, at times, was "tough to watch," but he was amazed by the turnout.
"It's unbelievable. It seems like people are more supportive now than they've ever been," said Thompson as he signed auction catalogs. The restaurant was built in 1972.
Still, Thompson said he made the right decision to retire and said he wants to spend more time with his family. Plus, he did keep a few select pieces of memorabilia for himself.
Naples said the Boardman A&W will be missed. The restaurant is slated for demolition and will be replaced by an auto-parts store.
"I hate to see it go for an auto-parts store. I wish they could pick the whole thing up and move it somewhere else," Naples said.