Amid rally for tougher cruelty law, kennel ex-owner Steve Croley acquitted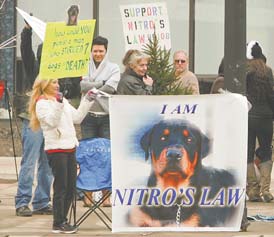 ---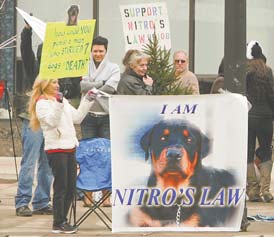 Photo
Demonstrators rally in downtown Youngstown in support of House Bill 108, also called "Nitro's Law." The rally Wednesday came at the same time Steven Croley of Austintown was in court for a probation-violation hearing.
YOUNGSTOWN
Dozens of supporters for a change in state law making certain acts of animal cruelty a felony rallied in downtown Youngstown as the man at the center of their outcry was found not guilty of a probation violation.
Steven Croley, 41, former owner of High Caliber K-9 Kennel on Coitsville-Hubbard Road, where seven dogs starved to death in 2008, appeared Wednesday before Judge Robert Douglas of Youngstown Municipal Court on allegations of violating terms of his probation by having three dogs on the Austintown property where he lives with his wife.
Croley, three years ago, was found guilty of four counts of animal cruelty, all misdemeanors, placed on probation and ordered not to own or harbor any animals.
Two blocks from the courthouse, dozens of people wore T-shirts and carried signs asking passing motorists to honk in support of House Bill 108 — or "Nitro's Law," named after one of the dogs found dead on the kennel property. The law would make certain acts of neglect by kennel owners a felony.
About a half-dozen of those participating in the rally sat in on the probation-violation hearing. Judge Douglas warned all in attendance that outbursts or inappropriate actions would not be tolerated. One woman, not with the members of the rally, was later asked to leave the courtroom after a small outburst.
Dave Nelson, deputy dog warden for Mahoning County, during the hearing, told the court he received a call about Croley having dogs at his Austintown home and began an investigation. He said three dogs were found to be living at the property, and it was later determined the dogs were not properly licensed.
Croley was arrested on the probation violation in December.
Atty. James E. Lanzo, representing Croley, questioned Nelson on cross-examination. Nelson admitted the animals — three dogs and one cat — appeared to be in good condition when found and were not taken from the home.
Lanzo also called Sherry Lewis, Croley's probation officer, to the stand. Lewis told the court that Croley informed a previous probation officer he was living in a residence with animals that belonged to the owner of that home and was not violated because of that admission.
Croley also contends he informed the probation department he had gotten married and was sharing a home with his wife and the pets she had prior to the marriage.
Lanzo called Croley's wife, Renee Croley, to the stand and produced paperwork showing she had acquired the three dogs and cat before her marriage. One dog was acquired in December 2008, and the other two dogs were acquired in March 2010. The Croleys were married in October 2010.
Lanzo also produced paperwork showing that the Austintown home was purchased by Renee Croley two years before her marriage, and that she is the sole owner of the property.
Lanzo told the court that Steven Croley never owned any of the animals in the house and that he could not harbor the animals because he is not the owner of the property in question.
Judge Douglas agreed with the defense, saying Steven Croley clearly did not own the animals and could not provide harbor for the animals because he did not own the home where the animals live. He found Croley not guilty of probation violation.
Jennifer Bird, a Pittsburgh resident taking part in the rally for Nitro's Law, said the court's finding was unfair because, as a married couple, the Croleys would be required to split assets, and dogs are considered property. She also said there is no doubt that Steven Croley is left to care for the animals in his wife's absence.
Bird and Brooke Farkas of Cleveland, another member of the rally, also maintain that Steven Croley is the owner of two of the dogs but has them in his wife's care to get around the terms of his probation.
Farkas said supporters of Nitro's Law will not be discouraged by the outcome of the Croley case and will continue to fight for tougher laws on animal cruelty. She said if the group were to give up, "nothing would ever get done."
More like this from vindy.com
January 12, 2012 12:15 a.m.