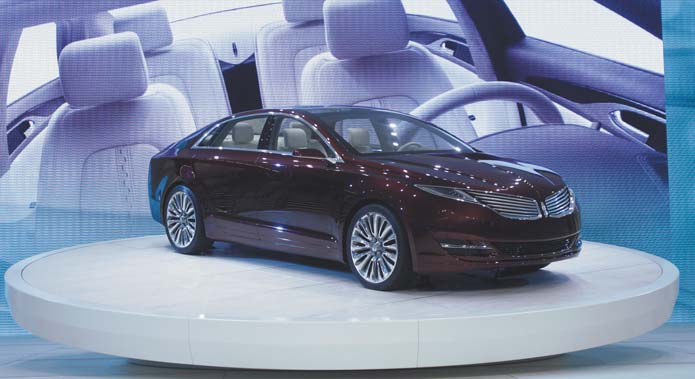 Photo
The Lincoln MKZ concept car is unveiled at the North American International Auto Show in Detroit on Tuesday.
Associated Press
DETROIT
Lincoln once was the pinnacle of luxury. Continental limousines carried presidents from Franklin Roosevelt to Ronald Reagan. Town Cars ferried executives through Manhattan. Athletes and rappers cruised around in Navigator SUVs.
But over the past two decades, the Lincoln lineup grew stale as Ford transformed its other cars and trucks with new designs and features. Now it's finally Lincoln's turn for an update, one that aims to show customers the brand can make more than hearses and airport limos.
It's been a long wait. For years, Ford saw more promise in other luxury brands it was buying, such as Jaguar and Volvo. Many Lincoln models became too similar to their lower-priced Ford siblings. Sales suffered.
Lincoln sold a little more than 85,000 vehicles last year, down 63 percent from the brand's peak in 1990. At one time, it was the top luxury brand in the U.S. But Lincoln now is outsold by seven other luxury brands, including Lexus and Infiniti. Presidents since Bill Clinton have ridden in Cadillacs.
Saving Lincoln has been on Ford's back burner for a long time. The automaker decided first to tackle more pressing matters such as downsizing and returning to profitability. After a five-year turnaround, the company is making money again. CEO Alan Mulally has shed Ford's other luxury brands and is ready to focus on turning Lincoln into a real competitor that can attract wealthy buyers and fat profits.
Fourteen months ago, Ford assigned a team of 180 designers and engineers to focus on Lincoln full time. The company recently opened its first dedicated Lincoln design studio since the 1970s.
Buyers will see the fruit of those efforts at the Detroit auto show, where Ford on Tuesday pulled the wraps off an MKZ sedan that is close to the model that will go on sale this fall. The new MKZ is one of seven new or revamped Lincolns due out by 2015, when the Lincoln brand will celebrate its 100th birthday.
The 2013 MKZ already is getting some critical buzz.
"They're doing the right things. People are going to aspire to own a Lincoln again," said Dave Sullivan, an analyst with consulting group AutoPacific Inc. The new design reminds him of an Audi.
Among the MKZ's features is an all-glass roof that opens automatically and slides over the back window, giving both front and rear passengers a convertible-like ride.
It still has Lincoln's split-wing grille, a tribute to the 1938 Lincoln Zephyr and one of the brand's most recognizable features. But designers toned it down after complaints about the ungainly maw on the most recent Lincoln sedans.
The car is longer and wider, giving it a more luxurious look, and it has an elegant, clean dashboard with flush buttons for controls instead of knobs.
The concept car — in a rich reddish brown dubbed "cognac" — has cream leather seats perforated into a pattern that's meant to resemble champagne bubbles.
More like this from vindy.com