200 rally in Columbus against hydraulic fracturing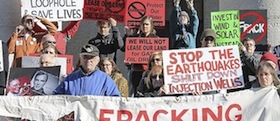 ---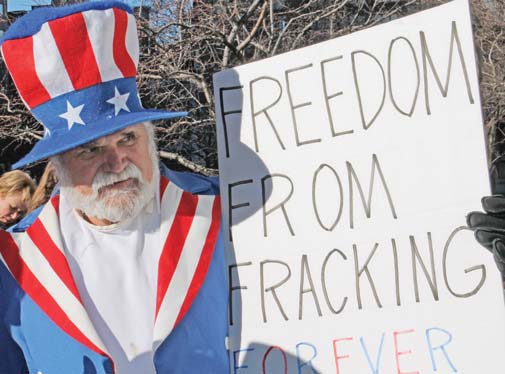 Photo
Trumbull County resident Werner Lange dressed as Uncle Sam showed his feelings on fracking.
RELATED: • Girard City Council calls for moratorium
• Forum on drilling attracts 130 to Mill Creek's Davis Center
• Counties in Pa. lack power to regulate drilling
By MARC KOVAC
news@vindy.com
COLUMBUS
Jamie Frederick held up the pair of heavy-duty ear protectors she used to try to block out the sounds of drilling near her Coitsville home.
They didn't work.
"Living through the drilling and fracking phase of the most recent well was a truly terrifying experience," Frederick said. "Twenty-four, seven, nonstop, we were subjected to such unbelievable levels of noise that you could only understand if you heard if for yourself. It would have been more peaceful to live on an airport runway."
(Editor's note: There is injection well drilling in Coitsville. The Ohio Department of Natural Resources has not issued Utica or Marcellus shale drilling permits in Coitsville.)
The noise was only part of the problem, Frederick told other protesters at an anti-fracking rally Tuesday at the Statehouse. She recounted health problems, contaminated water, property damage and other issues that have affected her and her husband since they moved to the Youngstown area several years ago.
Frederick was one of the speakers during the two-hour protest. About 200 people participated, including more than 40 who traveled by bus from Youngstown, the site of a New Year's Eve earthquake that many believe was caused by an injection well used to dispose of fluid waste from oil and gas production.
Participants held signs, sang and chanted in unison, hoping to persuade lawmakers and Gov. John Kasich to stop all horizontal hydraulic fracturing, or fracking, in Ohio until after studies are completed to ensure the emerging oil and gas-production method is safe.
Fracking is the process in which water, chemicals and sand are blasted into rocks thousands of feet below the ground to unlock natural gas and oil.
"We came down to raise our voices to stop fracking and stop the destruction of our state, our land, our air, our water," said Susie Beiersdorfer, a part-time geology instructor at Youngstown State University. She added later, "This is the first line of defense, getting the legislatures to pass a moratorium at the least, and I'd love to just see a ban on all fracking. ... It's not for everyone's advantage; it's for private profit."
A public meeting is scheduled for 5 p.m. today at the Covelli Centre in downtown Youngstown, giving residents, city and Mahoning County officials an opportunity to listen to and ask questions of representatives of the Ohio Department of Natural Resources about recent seismic activity in the area.
"The people of Ohio and the Mahoning Valley need to get some answers from their government officials," said state Rep. Robert Hagan of Youngstown, D-60th, who was at the protest. "We need to find out why Ohio has become the dumping ground of the United States and why it's so important that Pennsylvania and New York bring their toxic chemicals and dump them into the Mahoning Valley and cause earthquakes that we have to come out on the stairs of the Statehouse and complain about."