Speaker: Process will cause 'crisis'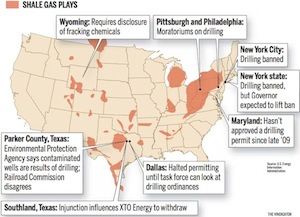 ---
By Karl Henkel
ARLINGTON, VA.
An Ithaca College professor doesn't want to see a halt to horizontal fracturing.
She wants to see it banned.
Sandra Steingraber, an ecologist and author, speaking Monday in Virginia at a shale-drilling health forum along with dozens of health- care professionals, environmental advocates and attorneys, said that fracking will not just cause an envi-ronmental crisis, but also a "human-rights crisis."
The consensus, however, is that the jury is still out; there is not enough information to determine if fracking causes widespread contamination.
"These things should not be causing contamination," said Dr. Bernard Goldstein of the University of Pittsburgh's Graduate School of Public Health. "We don't know if they are, but we need to find out."
Fracking is the process in which chemical and sand-laced water is blasted into shale rocks thousands of feet below the ground to unlock natural gas and oil.
Vertical fracking has existed for decades, but the advent of horizontal fracking has opened new doors for energy exploration.
It has also left the door open regarding potential water and land contamination and air pollution.
Some question the chemicals that drillers use in the fracking process.
"We don't have a great handle of toxicology of fracking chemicals," said Dr. Vikas Kapil of the Agency for Toxic Substances and Disease Registry.
In Ohio, drillers do not need to disclose chemicals used in fracking. Wyoming, Pennsylvania, Arkansas, Texas, Colorado, New Mexico, Montana, West Virginia, Idaho, and North Dakota have or are working to approve legislation to require such disclosure.
Wilma Subra, president of Subra Co., an environmental consulting firm, said research identified a laundry list of chemicals found in some drinking water, supposedly due to fracking or subsurface spillage of fracking fluids, including brine.
Substances included methane, nitrate, sulfate and arsenic, but Subra said she does not have data to prove how much of those chemicals were present in the water, leaving some of her peers skeptical.
"The question is the dose," said Goldstein, who called some of the accusations of widespread public health decay "the extent of ignorance," because of lack of contextual information. "It's not just what chemical is in there."
An example is benzene, which can be present in drinking water in small doses.
Federal regulators have determined that benzene levels of 5 parts per billion or less are safe, so simply listing that chemical and connecting it to fracking is not a fair assessment, Goldstein said.
But many, including Subra and Steingraber, said they've already seen enough.
Steingraber urged for the rapid phase-out of all fossil fuels "to avoid human calamity" and said that mitigating fracking will only curb potential environmental risks, but not eliminate them.
"If we mitigate fracking to kill fewer people, we're still killing people," she said.
Steingraber used Dimock, Pa. as an example of fracking gone awry.
Some residents of Dimock, a small township in Northeast Pennsylvania, had their drinking water contaminated with high levels of methane after Cabot Oil & Gas began fracking in the area in 2008.
Cabot shipped clean water to 12 homes for about three years before the Environmental Protection Agency deemed the water safe last November.
The EPA has since said it will retest the drinking water.
But Energy In Depth, an education and outreach arm of the natural gas and oil industry, points to the Fort Worth, Texas region as an example of drilling done right.
The Fort Worth area, which is in the Barnett Shale region, had 15,675 producing wells as of last January. According to Community Health Status Indicators compiled by the U.S. Department of Health and Human Services, key indicators of health actually improved during the past several years.
More like this from vindy.com