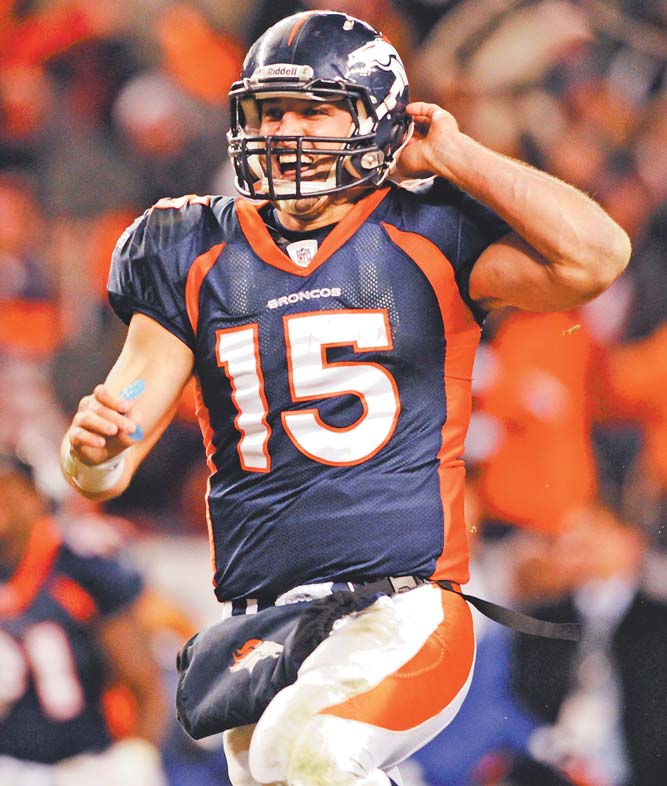 ---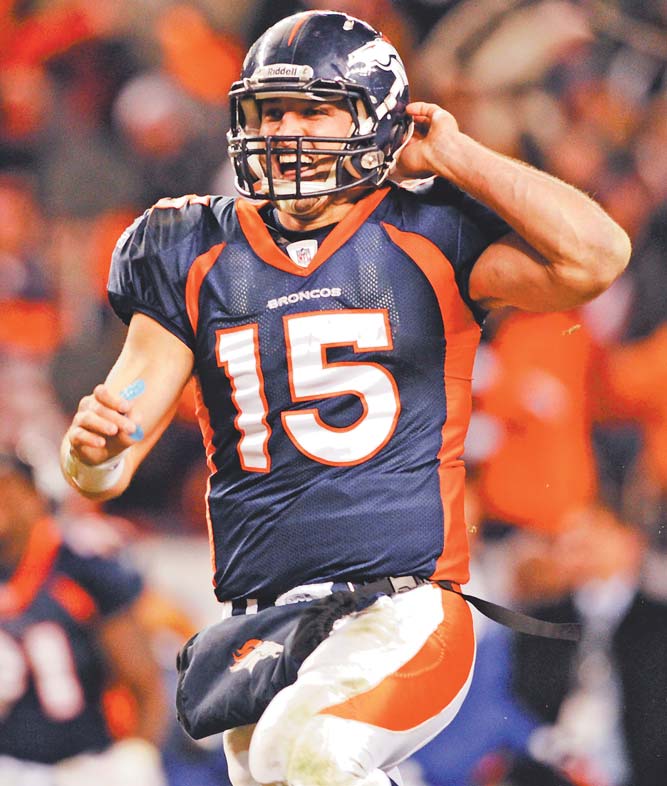 Photo
Denver quarterback Tim Tebow celebrates his 80-yard touchdown pass in overtime, giving the Broncos a 29-23 win over the Steelers in an NFL wild card playoff game Sunday in Denver.
Associated Press
DENVER
Ben Roethlisberger was rarin' to go after rallying the Pittsburgh Steelers in the fourth quarter.
Standing on the sideline, the banged-up quarterback with the balky ankle was anxiously waiting for his chance to take the field in overtime.
Given the new rules, all the Pittsburgh defense had to do was hold the Denver Broncos to a field goal — or, even better, a punt — and Roethlisberger would get another crack.
It didn't happen.
The next time Roethlisberger stepped onto the field was to congratulate Tim Tebow and the Broncos. Tebow worked his magic yet again, hitting Demaryius Thomas for an 80-yard catch and run for a stunning 29-23 in the AFC wild-card game on Sunday.
The play that ended the season for the Steelers (12-5) took all of 11 seconds.
"Any loss stinks for me and this is no different," Roethlisberger said. "It's hard to put into words right now. It's a frustrating thing."
Moments earlier, the Steelers were poised to steal an improbable win in regulation. With his team trailing 23-16 with less than four minutes remaining, Roethlisberger found Jerricho Cotchery in the end zone for the game-tying score.
After getting the ball back with 1:37 remaining, Roethlisberger — showing little effects from an ankle injury that's been bothering him for about a month— drove the team to the outer edge of field-goal range.
From there, it unraveled. Roethlisberger had the ball jarred loose by Elvis Dumervil before pouncing on it. But it pushed the Steelers out of range and led to overtime.
The Broncos (9-8) won the coin toss and Tebow quickly went to work.
One play later, the capacity crowd was roaring and the Steelers were reeling. The Broncos move on to play New England next weekend.
"Nice job by those guys," Pittsburgh coach Mike Tomlin said. "They made the significant plays tonight."
And took advantage of blown coverage on the game's final play. Thomas hauled in a play-action pass at the Denver 38, stiff-armed cornerback Ike Taylor and then outraced safety Ryan Mundy to the end zone.
"I felt like I probably could have helped Ike out," said Mundy, who was filling in for Ryan Clark as the team's leading tackler sat out as a precaution because of a blood disorder that's exacerbated by altitude. "That's a tough coverage for [Taylor]. No help, and my help was late."
The heavily favored Steelers entered this game a dinged-up bunch. Roethlisberger was bothered by an ankle injury, but still played.
And well, too, finishing 22 of 44 for 289 yards and one TD pass. He also threw an interception.
Tailback Rashard Mendenhall didn't play due to a knee injury and Pro Bowl center Maurkice Pouncey was inactive for the game because of a sore ankle.
Later, the Steelers lost left tackle Max Starks to a right knee ailment.
If that wasn't enough, Pittsburgh also had defensive linemen Brett Keisel (groin) and Casey Hampton (left knee) leave the game with injuries.
A factor? Tomlin wouldn't even entertain that notion.
"We don't live in that world," he said. "We don't make excuses in regards to injuries. The guys we put on the field were capable of doing the job and the reason we didn't do the job is because we didn't perform."
Making his first appearance in the playoffs after going 7-4 as Denver's starter, Tebow outdueled Roethlisberger, a two-time Super Bowl winner, who fell to 10-4 in the playoffs. The Broncos also snapped a three-game losing streak that had many wondering if they were even worthy of their first playoff appearance in six seasons.
Turns out, maybe they were.
"We're just a fighting team — a lot of resilience," cornerback Champ Bailey said. "In any adverse situation, we'll find a way to get out of it.
"Everybody says we backed into the playoffs — we're in. We did something right along the way."
With Tebow leading the way, unorthodox style and all.
"He won. That's all that matters," safety Troy Polamalu said of Tebow. "They won, I should say."