On track for kids' health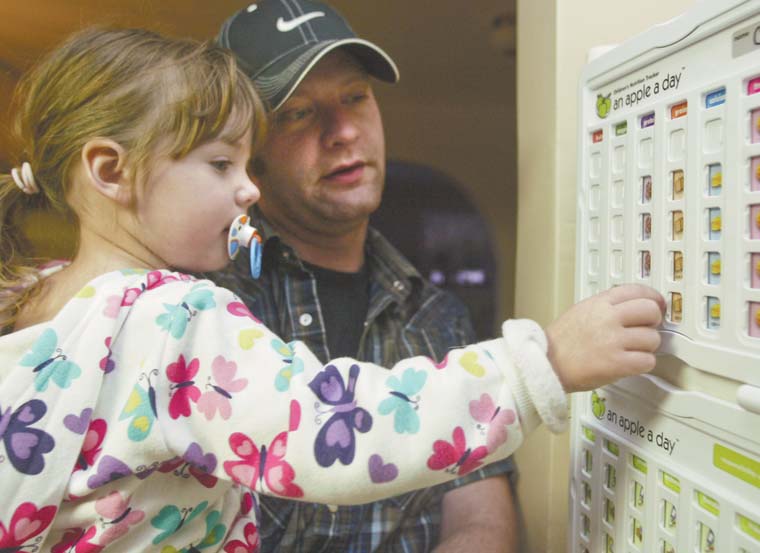 ---

Photo
Chloe Baer, 2, and her father Matt Baer, of Poland, log Chloe's healthy eating habits using her An Apple A Day tracking tool. Baer said the program, which he also uses with his 7-year-old daughter, Brianna, helps him keep track of what his children are eating and gets them involved in their own nutrition.
By Elise Franco
Poland
As the old saying goes, "An apple a day keeps the doctor away," but for many young children it could also mean the beginning of a healthier lifestyle.
An Apple A Day is a nutrition and responsibility tracker designed to teach kids healthful eating habits at a young age, said co-creator David Cagigas, of Cleveland.
Cagigas, 39, a former Poland resident, and his sister Lisa Cagigas Johnson began developing the product more than three years ago.
"Lisa's No. 1 priority was to feed her children well, but she wasn't sure what to do," he said. "She came to me and said, 'How do you bring this information into the kitchen and bring your children into it so we can track it together?'"
What they came up with is a magnetic board that hangs on the refrigerator and tracks the daily intake of fruits, vegetables, protein, calcium, treats and activity.
Under each listed category is a series of doors that the child slides open at the start of each day. As he or she eats from one of the groups throughout the day, they slide the door closed, until the serving amount for his or her age group is met, Cagigas said.
"Kids feel a sense of accomplishment with this tool," he said. "It makes parents' days easier, and they sleep a little better knowing it will hopefully make an effect on their kids' lives that will last forever."
Sara Baer, of Salem, purchased An Apple A Day for her brother-in-law, Matt Baer, of Poland, to use with his daughters, Brianna, 7, and Chloe, 2.
Baer said the tracker is the perfect way for Matt, a single father, to keep better track of what his children eat.
"He works two jobs, and before this had no way to track their food the way he wanted to," Sara Baer said. "It's a solution to a problem I think a lot of families have, and it's such an excellent way to create good habits in a child."
Matt Baer said they've been using the tracker since Christmas, and though Chloe and Brianna are still getting used to the tool, it's already making a difference.
"It helps me help them to stay focused," he said. "And when they grow up, hopefully they'll have some concept of healthy eating and responsibility."
Baer said this isn't his first crack at healthy eating with his daughters, but so far, An Apple A Day is working wonders.
"So many people eat from windows [fast food] because it's a convenience, but now we cook together and have fun with it," he said. The basic An Apple A Day kit is available for $35.95 at www.anappleaday.com. Visit the website for information about additional tracker cards.
More like this from vindy.com